It is interesting how companies are so keen to get swept up in whatever profoundly illiberal fashions define the mainstream. Prêt a Manger, a high quality sandwich chain, proudly says they do not use air freighted produce. They are a major purchaser and they are refusing to buy from a great many Third World producers whose products depend on air freight. No doubt this is seen as a positive thing, hence the fact they go out of their way to let you know.

Prêt founder Julian Metcalf is a fine entrepreneur and his company does make great lunch food. Moreover I approve of them giving their leftover food to homeless shelters, all enlightened stuff. From a business point of view I can see their thinking as a much higher percentage of their clientele are likely to be middle class Guardian readers with an eco-fetish than impoverished Kenyan farmers desperately trying to get the European trading system to let them sell their damn products and really not needing a meme infecting the private sector that makes it even harder for them than it already is.
I have no idea if the directors of Prêt actually believe the eco-bollocks or if it is just a marketing exercise. However as I am not saying Prêt a Manger should not have the right, for whatever reason they wish, to buy from who they wish, it does not make any difference to my argument because either way I would criticise them for it. I eat there in spite of the greener-that-thou crap, not because of it. But the thing that really gets up my nose and motivates me to look elsewhere is…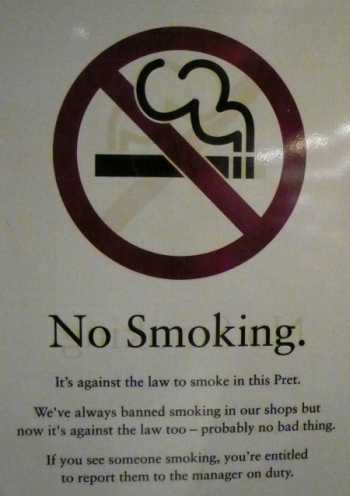 No, not the fact they banned smoking. I do not smoke so that is fine by me. I once said something nice about them on Samizdata, mistaking it for a sign (pun intended) of pro-liberty political thinking. But in truth they are clearly just typical corporates more than happy to see the state use force when it coincides with their sensibilities.
"We're always banned smoking in our shops but now it's against the law too – probably no bad thing".
So if Pret thinks it is good to do something in their shops, it is probably a good thing for the Boys in Blue to impose with that notion everywhere else too. How very caring of them. I wonder what other aspects of their business they think it would be no bad thing for the state to impose on other folks who might disagree?
But as I do not contest their right to do and say as they please, why even mention it? Well that is because we are in a Culture War, boys and girls.
When The Suits utter some pro-statist platitudes about how they are actually rather happy some people cannot do what they want, or proudly adopt a 'Screw The Third World' eco-bollocks policy and then hold it up as a reason to think well of them…just shrugging your shoulders only encourages more of the same. I am sure their marketing people tell them that the eco-bollocks and the 'we rather approve of people having less liberty' utterance will give their clientele a sense that Prêt People Are Caring (marketing people really do talk using Interior Caps When They Say Things).
Actually guys, a rather different C-word comes to mind when I think of you.
But yeah, your sandwiches are great and the shop floor level people I encounter are dependably cheerful and pleasant… however EAT just opened up right next to your shop on King's Road in Chelsea so you might be seeing a bit less of me these days because they have not found a way to annoy me (yet). And if they do, there is a really great Lebanese place called Al-Dar just a few doors down from your gaff and I am quite certain they do not give a… whatever… about such things.