The new logo for the 2012 London Olympics has been unveiled and it has produced howls of outrage. Yet I beg to differ. I think it is perfect.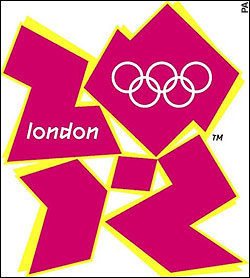 What does it look like to you? To me it is obvious: a collapsing structure of some sort, perhaps a building at the moment of demolition. The sense of downwards motion towards the bottom of the page is palpable.
Breathtaking. I mean what truly magnificent symbolism. The entire Olympic endeavour has been a massive looting spree with already grotesque cost over-runs (and it is only 2007), so surely something that conjures up images of collapse and disaster is really on the money… and speaking of money, at £400,000 (just under $800,000 USD) for the logo, it perfectly sums up the whole 'Olympic Experience' for London taxpayers.
No, if ever there was 'truth in advertising', this is it. Well done Lord Coe, I salute you.