Riding the 211 bus from Hammersmith to Chelsea yesterday, I was in a good mood, anticipating a tipple or two with Samizdata Overlord Perry de Havilland. As the bus drew up beside Borders, though, my mood took a significant tumble upon spotting this: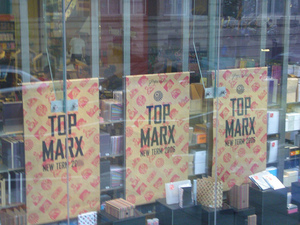 Paperchase is a British stationery chain which also operates within Borders stores, having been acquired by Borders Group in 2004. If you click on that link, you will see that the "Top Marx" line of back to school supplies is the central feature of their new season's products. The product descriptions refer to the red stars and other iconography as "Chinese emblems". I suppose that is true, much in the same way that the swastika became a "German emblem".
It was only a few months ago that a number of people decided to boycott Borders, due to the chain's decision not to sell the issue of Free Enquiry magazine which featured the Danish cartoons depicting Mohammad. The reply I got to my complaint letter to Borders about this was exactly the same as the one Dale Amon received. It read, in part:
[W]e place a priority on the safety and security of our customers and our employees.
So is it safe to presume that Borders would cease to carry the "Top Marx" line if they were subject to sufficient threats of violence over it? Is it possible that no Paperchase or Borders employee voiced concerns about the wisdom of this line at any time? Or is it more likely that the people at Paperchase and Borders are really that ignorant of such recent history? I am curious what Samizdata readers think of this one.