… bit of hugely entertaining fun. Heh, and you thought I was about to put the boot into the hideous and unspeakable David Cameron again, didn't you? Not at all. I was introduced to H.P. Lovecraft's works by an erudite Jamaican friend many years ago, who took a perverse delight in the author's often insanely racist Neo-Gothic between-the-wars horror stories.
But now a band (or perhaps 'cult') of enthusiasts for Lovecraft's lavishly adjectival genre of occult-cum-SciFi horror have made a 1920's style silent movie called The Call of Cthulhu. It captures the spirit of the story and style of the era perfectly. I just received the DVD today and it was simply a delight to watch (if a tale of madness and horror can be thusly described). You too can view the full length version and have your sanity blasted away for the very reasonable sum of $20 + pp, simply by making the 'voorish sign' with your mouse here…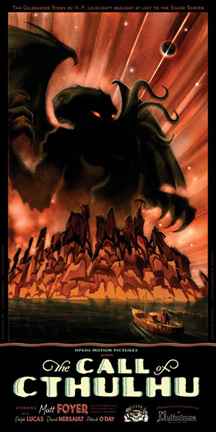 'Fan art' (for that is most certainly what this is) is often very turgid and accessible only to the initiated hardcore (be they 'Trekkers', 'Xphiles', 'Whovians' or whatever) but this splendid silent movie shot in 'Mythoscope', a process that makes it look like, well, a 1920's silent movie, should delight enthusiasts not just of the narrow Cthulhu genre but fans of horror and silent movies generally.
In truth if the movie has a failing, it is actually rather too good to be a genuine 1920's creation. Highly recommended.