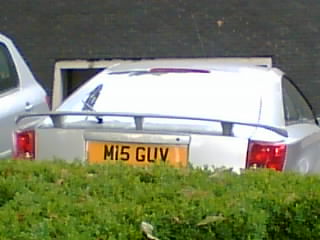 Discreet, that is. A case in point is something I observed this evening.
It was a hot day in London, by London standards. So a large, prominent office on Millbank had its back doors open. Being the sort of large, prominent, office it is, the back doors therefore had two police officers with Heckler & Koch submachineguns stationed outside, drawing attention to the place, and costing the taxpayer something over £100,000 a year, pro rata. I have seen this before. It is not an emergency procedure.
Are we to assume that the intelligence service in question was not intelligent enough to acquire proper ventilation and/or airconditioning when it took over the large, prominent, office building a decade ago? Could it be that there is no space inside the doors for an armed guard to stand discreetly? (If an armed guard were otherwise necessary on a non-descript building that was not obviously of governmental import – such as the soul-less, off-the-beaten track, south London and Euston buildings occupied by the same organisation for the latter half of the Cold War, when it had a serious job to do and took it seriously.) Or is this part of security swagger, the latest trend in government where departments impress politicians, each other, and the mulitude, with their importance and power by elaborate, even flamboyant, precaution and fortification?