I am in San Francisco right now with Adriana, who will be speaking on net neutrality at Vloggercon tomorrow with her Samizdata co-editor hat firmly affixed. Today, we will be attending Techdirt Greenhouse with fellow Samizdatista Hillary Johnson.
Upon arrival yesterday, Adriana and I went for a wander and took in the, er, sights. We passed by UN Plaza, where I snapped this nauseating image: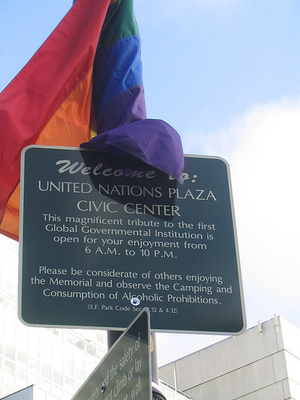 On the same pole, there is a sign warning vagrants not to peddle without a permit. Still, I would have loved to have taken a snap of the sign that Perry de Havilland and I spotted while driving around in San Francisco last year, which featured a beaming Asian-American woman with the following in bold letters:
Paying taxes really pays off!
Whenever I am in San Francisco, I cannot help but think of the great Ken Layne, who wrote in 1998:
San Francisco is truly the foulest place on earth. The nation's most expensive city features $2,000 moldy little apartments, a filthy broken-down transit system, tens of thousands of bums on the dole, the nation's worst newspapers, year-round crappy weather, and a local government that's truly of and for the people. That's because the people here are total idiots.
We are actually quite enjoying the weather, but the rest sounds about right to me.