Not content with bullying its own population, the British Government is now spending taxpayers' money to export the culture of fear. This from the website of Her Britannic Majesty's Embassy to Romania: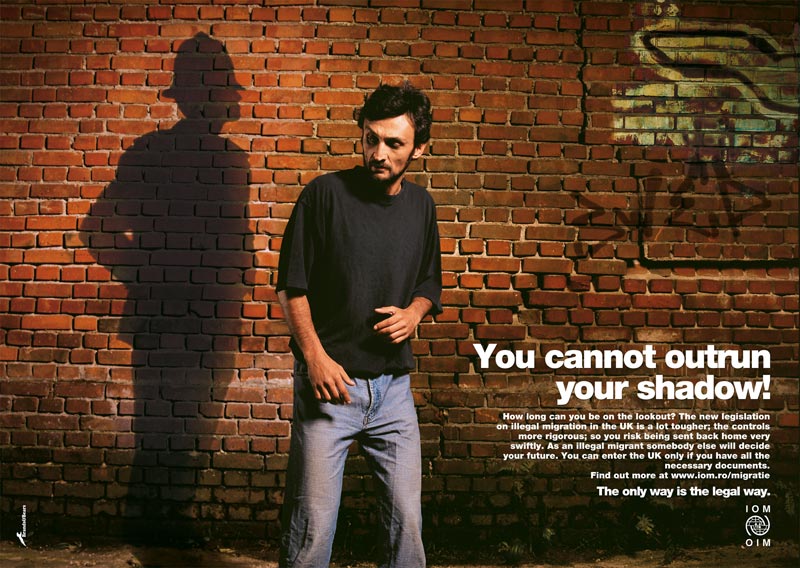 With approximately 100 illegal immigrants deported from Britain to Romania every month and 250 Romanian asylum seekers registered last year in the UK, the Home Office and the International Organisation of Migration (IOM) decided to launch this publicity campaign in March 2005.
The existence of the IOM 'Managing migration for the welfare of all' is unwelcome news to me.
[…] But how does a state achieve the balance between the need for control of its borders and the need to facilitate movement across its borders for legitimate purposes such as trade, tourism, family reunion and education?
…asks the IOM, seeking to explain its purpose, but begging the question. The assumption is that states will naturally ban travel and trade (which is what 'control their borders' means) and then decide what are 'legitimate purposes' for permitted movements. But this is a convenient doctrine invented by states in the 20th century, a generalization of the conditions of the Tsarist police-state and the petty, nationalist bureaucracies that emerged in the 19th.
Where – let alone why – I choose to live or travel is no business of states, unless I am doing injury to their citizens. By going from place to place I do accept that places are different legally as well as culturally and physically. If there were no differences there would be no point in travel. But the natural condition of borders is openness. They are just lines on a map.