I managed to find this email address, ccare@bordersstores.com, for Borders and have taken my own advice and notified them loudly of the downside to their actions:
The 'blogosphere' is alive with the recent announcement you will not stock the Free Inquiry issue with the Danish cartoons.

We abhor your cowardice in the face of the enemy and your lack of moral fibre to stand up for the First Amendment in the face of those enemies.

Our publication, Samizdata, has joined the Borders boycott call which is spreading amongst other high profile network publications.

While we are a publication of only 20,000 global readers a day, they are all solidly in the intellectual book buying demographic. Other publications, in the same demographic, are also calling for your metaphorical head. At least one of them has a quarter to a half million highly educated and mostly american readers a day.

There is no way out for you other than to carry that issue and to announce that fact loudly enough that it will catch up with the rapidly disseminating news of your prior decision

The 'blogosphere' has a long memory. This will not be forgotten in a month or two. Borders will from henceforth be linked in people's minds with the word 'cowards'.

Dale Amon
Editor,
Samizdata

You may reply if you wish, but I represent only one of many, many publications that are going to be pounding you on this. Only loud visible action will mean anything to any of us.
I recommend anyone who decides to quit Borders not simply stop going. You should make one last appearance and tell them why you will not be back. If you prefer a carrot approach, tell them what they could do to win the return of you and others like you.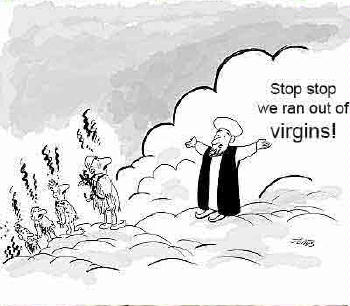 Cartoon shown with thanks and our highest regards to the Freedom Fighters of Jyllands-Posten
Cowardice does not make you safe. It makes you a safe target
– D.Amon