The rally in Trafalgar Square today was attended by about 1,000 (at most by my estimate) very disparate people and was a worthy effort for a poorly funded ad-hoc team of folks.
My main criticism would be that most of the speakers seemed to have little concept of speaking to a wide coalition of people united by a single issue: If an Iranian communist or anyone else, wants to talk about freedom of expression at a rally in London, then I am happy to listen, but the moment they start talking about Guantanamo Bay, US foreign policy or 'just' economic systems, which are NOTHING to do with the issue at hand, I will quite bluntly thank them to stick their views where the sun does not shine. They would do well to talk about what we have in common and not remind me that we are in fact profound ideological enemies.
Peter Tatchell and Evan Harris were well received and made compelling points. However in my opinion Sean Gabb was without doubt the best speaker as he was direct, clear and uncompromising, and most importantly confined his remarks entirely to the subject of freedom of expression. He also spoke for about half as long as most as the others, eschewing off-topic rambling and partisan digressions, which also endeared him to many in the crowd. If an unreconstructed free market capitalist like Gabb can resist advocating capitalism at a pro-freedom of expression rally, I will thank communists, socialists, greens and anyone else to kindly show the same focus on why we came to listen to what they have to say.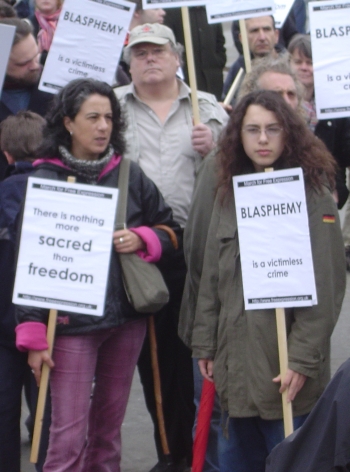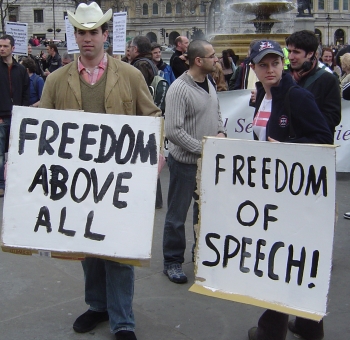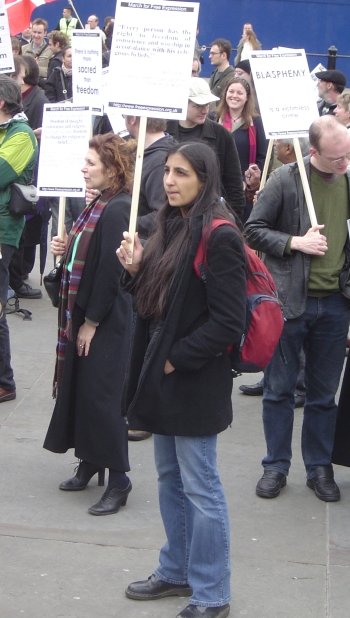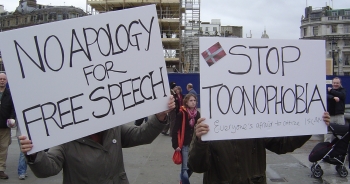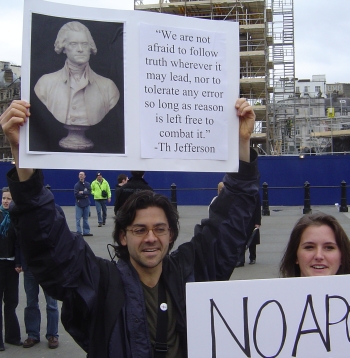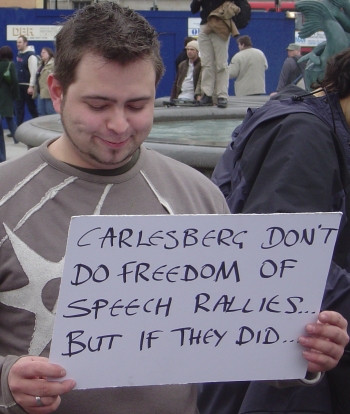 The stout fellows of the Infidel Bloggers Alliance were well
represented and took the piss most artfully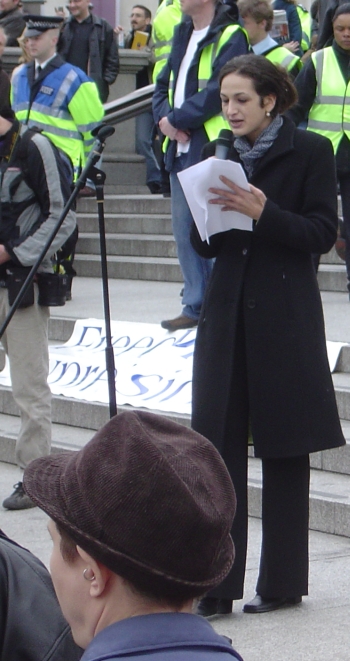 In the Trafalgar Square cafe, they were serving Danish Pastries, which seemed appropriate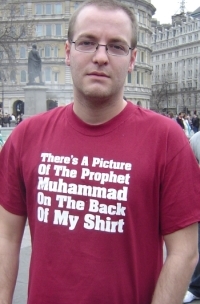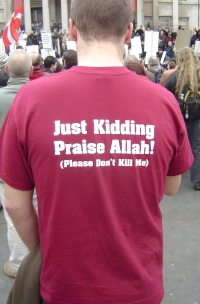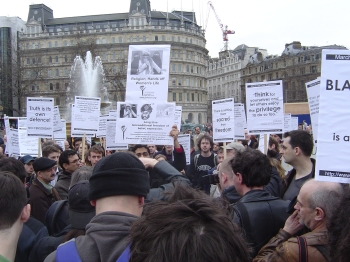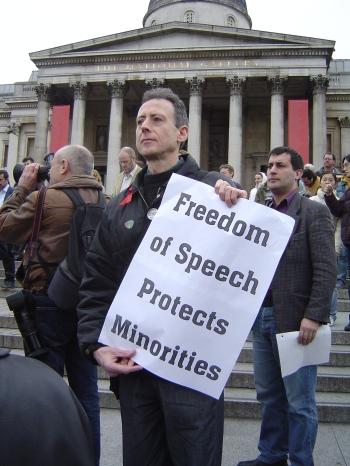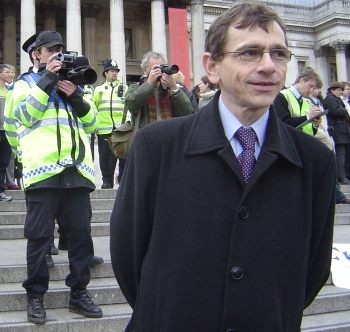 Police photographers were very much in evidence and
seemed inordinately interested in the back of Sean Gabb's head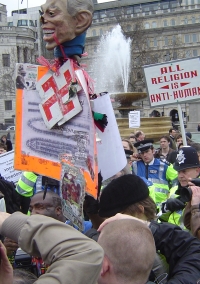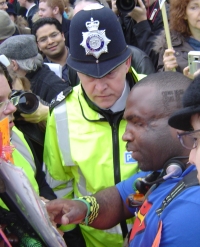 The police did not like this sign at all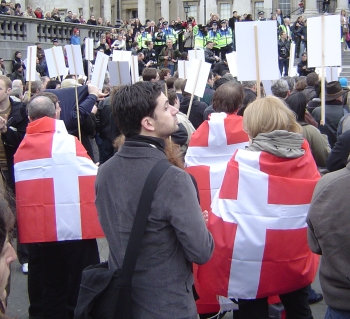 According to a warden, there is allegedly a by-law against flying national flags in Trafalgar Square, which I find hard to believe as I always see Palestinian flags and (burning) US or Israeli flags when ever folks from the Middle East protest in Trafalgar Square… so the Danish Flags here became 'Danish Shawls'… I find such lack of compliance with regulations quite heartening.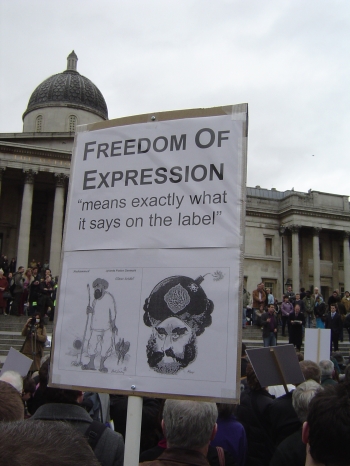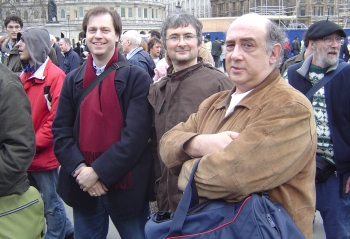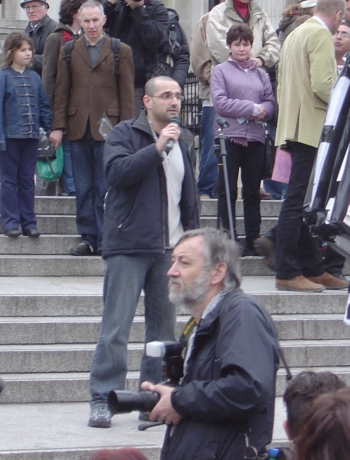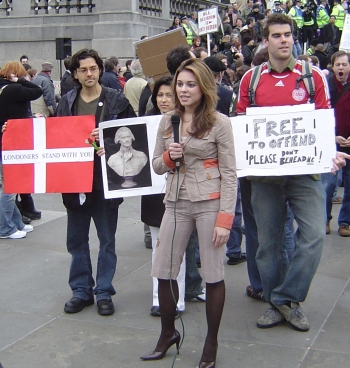 On two occasions, The Plod tried to prevent certain signs being shown (one featured the Mohammed Cartoons on a placard from the Iranian Communist Party and another showed a mask of Tony Blair over a Nazi symbol). These incidents at a 'pro-freedom of expression' rally, and the presence of the police taking pictures of the crowd, were a useful reminder of the deadening hand of the state and just how precarious the state of civil liberties in Britain are.