LOX tanking has just started on SpaceX's Falcon 1 launch vehicle on the pad at Kwajalein Island. Once you tank up with LOX you are either launching or scrubbing.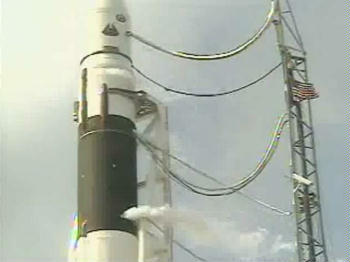 Addendum: Now T-18 and all reported good so far…
Addendum: She's off the pad!!!
Addendum: Video cut out, they may have lost it. Damn! Reports say it was rolling.
Addendum: "Gwynn: I have heard word that we did lose the vehicle. We did have successful liftoff until a minute or two into the flight. As soon as we have information we will post informaiton onto the site. We did lose the feed from Kwajalein; that happens pretty often here. We did have a successful liftoff, but the vehicle did not succeed after that. Clearly this is a setback, but we are here for the long haul."
Addendum: Here is one of the last photos from the rocket.