A friend of mine in Manhattan has joined an effort to save St Brigid's Church in the Lower East side and I find myself sufficiently drawn to the cause to support them in print.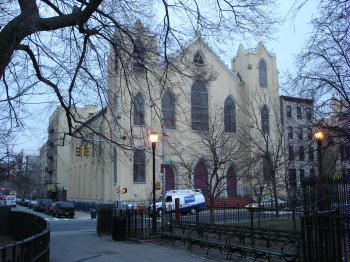 Photo: Copyright Dale Amon, all rights reserved.
St Brigids was built on the old waterfront of New York at the time of the Irish famine. It was perhaps the first stop for those who escaped the horror which starved one and a half million of their fellow citizens to death in Ireland and then survived the unspeakable conditions of the Atlantic crossing. The trip alone killed perhaps one of every five who attempted it. As one British Captain put it at the time, the difference between carrying slaves and Irish to the new world was that you did not get paid for a slave unless you delivered him alive.
The church was built in a time when the majority religion in Ireland was outlawed; those landing on New York's quays built their own place of worship on the shore to celebrate the freedom of religion they found in their new home. The ceiling was built by boatbuilders and carried some of the characteristics of that trade. You can read more about the history here.
The Catholic Diocese of New York has decided to tear it down and has thus far turned a deaf ear to the sometimes strident cries from parishioners. I agree the Diocese is legally the owner and does have the legal right to do with the property as they choose. I do not agree they are doing the right thing. Quite the contrary, I feel they are going down a path that runs counter to the long term interests of their religion, their members, the community the church has served for over a century and a half; and those who wish to see a bit of the historical roots of their own families kept alive.
This is not a problem unique to this small parish; due to costly recent legal problems the Catholic church in America has been destroying small congregations in the same way a national store would cut costs and sell assets to raise capital in hard times: by chopping off all marginal operations. The problem is, a church is not a business, or at least that is not why it exists. A small congregation is not a cost center; it is the very reason the religion exists. If religion is to have any meaning at all in the 21st Century it has to be as the last bastion of community. We used to have small community schools in America. The State destroyed education and communities to gain 'economies of scale' and to 'pay teachers more'. I would hate to see Big Religion join Big Government as yet another destructive force in our society.
If you find this argument compelling; if you want to save a bit of 19th century American architecture or have strong feelings about the immigrant history of the Irish, Italians and Hispanics, contact these people and see what you can do to help.
It is a given in libertarian circles that property rights are an absolute right. You will find no one at Samizdata who will stray from that view. This does not mean libertarians like myself turn a blind eye to what their neighbors do or what happens in the community around them. The actions of others can affect my quality of life, and I feel it my duty to use strong but peaceful persuasion when I feel someone is harming others. Many find it confusing that libertarians will at the same time defend someone's right to do something while saying they are a bloody immoral fool if they actually do it.
I have recently come across two cases which have impacts in areas which I care about. I have dealt with one of them above; the other is a far more complex issue of regulatory distortions which may soon cause disastrous and irreversible secondary harm and are perhaps only answerable in the time available by a devil's deal. I have yet to figure that one out, so I decided, for the moment, to stick with this far simpler and clearer issue of property rights in an unfree world.