In order to show some solidarity with Denmark, who are facing remarkable pressure over the Jyllands-Posten 'Satanic Cartoons' incident, I for one will be stocking up with Danish products at every opportunity. I find it offensive that they are being threatened by Islamist thugs and pissant Muslim governments for daring to be a tolerant western nation.
So, what recipes can liberty lovers think up that use Lurpak butter, Danish bacon (lots of yummy Danish bacon), Havarti cheese, Carlsberg & Tuborg beer and smoked herring?
And as every campaign needs a 'face'…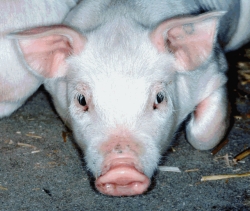 Oink for Denmark, Western values and freedom of expression!