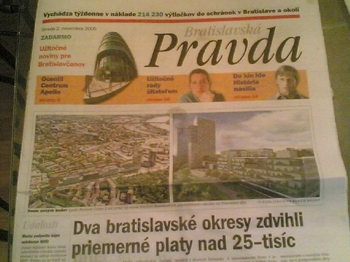 This is a picture of front page of a benign 'cousin' of the infamous Pravda (or more like a foundling on the same porch). It is a local paper that covers the small area of the Old Town of Bratislava, thoroughly local, post-communist, and reflecting the concerns of the local populace. Did I mention that it was local? The headline reads:
Two Bratislava districts (equivalent of local councils) have raised average wage above 25,000 [crowns].
What struck me was the active tense of that sentence � as if the local government had any control over what wages people get paid. I am told that the current Prime Minister was going around the country on a bicycle during the election campaign promising to double wages for everyone or words to that effect. Nothing extra-ordinary for a politician but people were actually disappointed after election when the wages did not double. When challenged he pointed at the fact that the wages did go up but nobody was fooled because they knew damn well that the cost increased as well. This did not seem to occur to them when the guy was making the promises though.
There seems to be the perception that the government still somehow doles out the wages as well as fiddles the cost of everything. Well, they sort of do but not in a good way. I also note the difference between the West and the post-communist East � people in the former talk in terms of rising cost of living and price inflation, people here think of terms of size of salary. I think it reflects the difference in mentality � it is thinking of how much you have rather then how much you can do�