The last of the Lockheed-Martin Titan rockets, after months of slow preparation, is finally up and away from Vandenberg. The blacksat on board was considered quite important and Lockheed used their clout as the launch contractor to kick fledgling rocket company SpaceX out of Vandenberg and away from the pad in which owner Elon Musk had invested millions of his own dollars.
Now that LockMart's big launch is away they will not have the power to continue their underhanded operations against potentially cheaper competition. A number of folk have told me that Elon's burn rate has been such that he is no longer quite a billionaire. As the adage goes, the way to make a small fortune in aerospace is to start out with a large one. Nonetheless, Elon is not letting the bastards (at Lockmart) get him down. I believe he has his next test coming up in November on Kwajalein, and the USAF is reportedly quite positive about working with him.
Except when LockMart throws a hissy fit…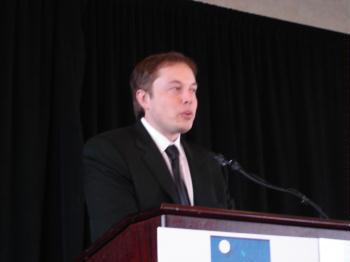 Elon Musk speaking at the National Space Society's 2005
International Space Development Conference in Washington, DC.
Photo: Dale Amon, all rights reserved