I received a web launch reception invite via email a couple days ago and had no particular idea why I was on the list. However, as is the case in the music world and a capital offense in that of journalism, one never, ever, passes up free food and drink.
Much to my surprise, this launch of the Britain and Ireland web site for contemporary conversations is the brain child of the British Council and our good friend Mick Fealty (Slugger O'Toole).
The new site will encourage discussion on historical and current entwinement (or entanglement) of Irish and British affairs with monthly articles as talking points. The site was introduced by Trevor Ringland and keynoted by footballer Niall Quinn. I am sure the 'discussion as a contact sport' I expect on this site will make even a rugby game look tame, let alone league football.
If you are interested in this part of the world, I am sure this will become a 'must read'.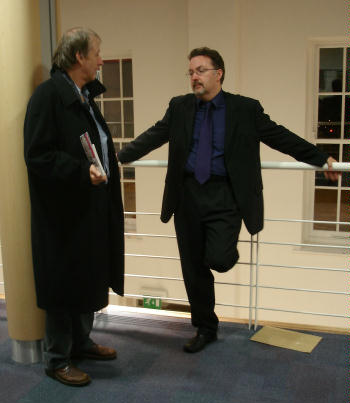 Mick Fealty practices being an amputee and nailed
to a cross in preparation for discussions on Britain and Ireland
Photo: Dale Amon, all rights reserved.