I love the internet. I went from this, which I posted here, to this, to this, to this, to this: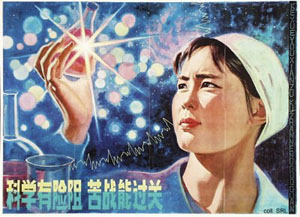 . . . to this: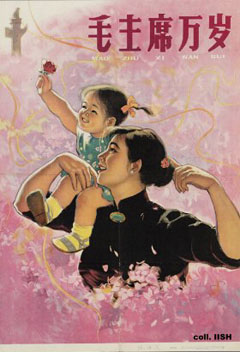 . . . . which is the work of Ha Qiongwen. Of this particular poster, Stefan Landsberger says:
The design reproduced above was at the root of Ha's problems: why had he depicted a bourgeois woman instead of a female proletarian? Where was Chairman Mao? Why didn't the poster praise the Chairman more explicitly? Every time the literature and arts world held a criticism session, he was dragged out as an object of public abuse. As a result, Ha was publicly beaten and humiliated more than thirty times.
Personally I think the Red Guards were on to something. I think these delightful and amazing Chinese propaganda posters and China's current, rampantly aspirational and bourgeois rise towards superpowerdom are cause and effect.
I offered further thoughts along these lines in this ASI blog posting . This is the bit that is relevant:
I recently encountered, in a remainder shop, a big book containing hundreds of Chinese Communist propaganda posters, much like these ones. They depict a vivid and colourful fantasy world of industrial excellence and economic triumph, of collective progress and personal fulfilment, of joy. The people who now preside over China's current economic miracle were teenagers when posters like these were at the height of their influence, and I think this is no coincidence. It makes perfect sense to me that the more imaginative and impressionable people brought up on imagery like this would turn away in disgust from the lumbering state centralism that these posters were intended to sell, once they realized that state centralism could never deliver such wonders, and instead switch to being enthusiastic pro-capitalists and even capitalist entrepreneurs. After all, only if China switched to capitalism could a real future like this be even hoped for, let alone rationally anticipated.
If you follow the link in that and scroll down to the bottom, you get to this: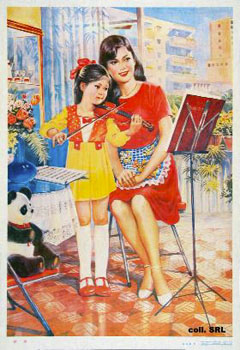 Red Guards eat your hearts out.
(I now possess that book.)
Did Ayn Rand have anything to say about these Chinese posters? She should have.