If you have any interest at all in the history of classical music, then I warmly recommend this fascinating article by Jane Glover in last Friday's Guardian (linked to yesterday by Arts & Letters Daily). I already know Jane Glover as an excellent conductor, and before writing this I played a CD of her conducting some of my very favourite Mozart symphonies. Wonderful. But, I had no idea until yesterday how much of a Mozart expert she is.
Her article, which doubles as a plug for her forthcoming book called Mozart's Women, concentrates on Mozart's wife Constanze.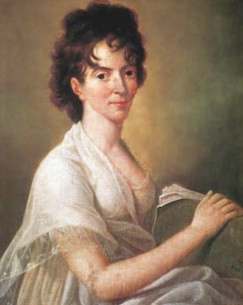 Glover states the Constanze problem succinctly:
Peter Shaffer's play Amadeus brilliantly explores the confrontation between genius (Wolfgang Amadeus Mozart) and mediocrity (Antonio Salieri). But there is one person to whom his take on Mozart's life does no favours at all: his wife Constanze. Portrayed as a vulgar, bubble-headed sex kitten, lacking any appreciation of her husband's phenomenal gifts, Constanze shares and encourages only the immature aspects of Mozart's personality.
What is more, in portraying Constanze like this, Shaffer only echoed contemporary gossip about her, now believed to be utterly without foundation, to the effect that she had no idea to whom and to what she was married.
But it turns out that Constanze was a hugely more formidable figure than that. She thoroughly appreciated her husband's genius, and it was during their very happy marriage that Mozart wrote the vast majority of his finest works. Coming herself from a famous musical family, the Webers, she was in fact the ideal composer's wife, assisting and inspiring in equal measure.
Even more important from the point of view of posterity is that after Mozart's tragically early death – which most scholars now agree to have been accidental, despite how Peter Shaffer tells the story – Constanze did everything she could to ensure that Mozart's music was made available to posterity. All who love Mozart's music are in her debt.
The history of art is shot through with horror stories of lost masterpieces, of destroyed manuscripts, of mislaid musical scores, and nowadays, of things like destroyed tapes from the early days of television. That nothing like this happened to the wondrous creative output of Mozart is due to the industry of many people, not least to that of Constanze's second husband, whom she got to know because they worked together to preserve and publish husband number one's compositions. But pride of place in ensuring that Mozart remained for ever Mozart, so to speak, goes to his beloved Constanze.
As for the "sex kitten" stuff, I cannot believe that, musically speaking, this did any harm either. On the contrary, even the smallest acquaintance with Mozart's music – especially his operas – suggests quite the opposite.