Yesterday I expressed the hope that England would beat Australia at Trent Bridge, and today they did.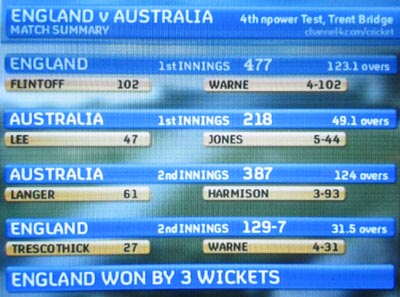 But England fans like me were once more put through the ringer. England should have had no difficulty knocking off the 129 runs they needed in their final innings. But the Australians fought like hell to claw their way back into the contest at exactly the moment when they should have been accepting the inevitable, and once again they nearly succeeded, England scrambling home by a mere three wickets. Warne and Lee are such ignorant fellows. They never seem to know when they are beaten.
The general opinion is that this is one of the greatest Ashes series ever. And this England win is good for that series in the sense that if England had lost this game, Australia would have retained the Ashes, no matter what happened at the Oval. As it is, the Oval game is winner take all.
The closeness of this Trent Bridge game makes it all the more regrettable that this otherwise fabulous contest was disfigured by yet another important and hideously mistaken umpiring decision. Australian batsmen Simon Katich was given out leg before wicket, at a time when he was batting very well and might have gone on to help set England a lot more than 129 to win. We all make mistakes. Umpires cannot be infallible. But on this occasion, technologically generated evidence made it clear to everyone before the unfortunate Katich had even walked off the pitch that the ball (a) pitched outside the leg stump, and (b) would have gone over the top of the stumps, and that the umpire was accordingly wrong on both counts to give him out.
Some erroneous decisions by cricket umpires take many minutes to deconstruct fully, but this Katich decision was immediately revealed to be wrong. So, if the umpires had had the same technology in their hands as the commentators now have, not only would a correct decision have been given at a crucial juncture in this very close match; it would have been given with almost no delay.
The current circumstances, in which umpires are made public fools of within seconds of giving their verdicts, cannot be allowed to continue indefinitely.
The LBW decision that did for Gilchrist also looked dodgy, but, assuming that I understand the finer points of the LBW law, the technology was able to show that this decision was almost certainly right. But that just means that the umpire guessed right, this time. He should not have had to guess. He should have known.
Cameras are already used to settle run outs, to the general satisfaction of all involved. Today, cameras were used to show that a possible run out was not, because England's wicketkeeper had knocked the bails off before the ball arrived, and again to establish that the catch which later on dismissed Andrew Strauss was properly held and had not hit the ground first. There was a bit of a delay, but not an excessive one given the importance of such decisions.
I understand how this situation has arisen. This clever LBW technology could not immediately be given to the umpires. It had to be refined and proved to be satisfactory. But now it has proved itself. We all – fans and players alike – now trust its verdicts more than we trust the umpires. Had the umpires had it in their hands today, who knows how the result might have gone? Who knows how many runs England might have had to chase in their final innings?
All of which made the characteristically sporting manner in which the Aussies took their defeat today all the more impressive. Considering how little practice they have had at it during the last fifteen years, they are good losers.