I do not believe that we have a "No shit Sherlock" category for blog postings here, but maybe we should. Here is the explanation that the Evening Standard was offering today of what made those who committed the atrocities of last Thursday in London decide to become suicide bombers: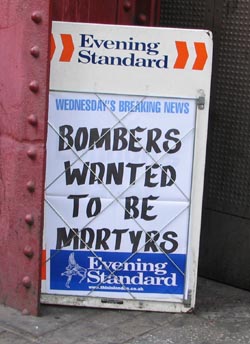 This photograph was taken outside Waterloo Station, at about 3pm this afternoon.
To be fair to the Evening Standard, their actual reportage was somewhat more informative, and more up-to-the-minute billboards revealed that one of the bombers was a primary school teacher. That was news, to me anyway.