Now that the animated corpse of Terri Schiavo has finally been allowed to die, some of the fault lines of American conservatism have been brought into sharp focus. The behaviour of quite a few on the left has not been very edifying either but certainly it is amongst the Republicans that the most remarkable behaviour has occured.
The term 'pro-life' may be a reasonable description for those who oppose killing late term foetuses but the broad political church of pro-lifers (with whom I actually share many positions) includes a section of conservatism which is so obsessed with the physical trappings of life that they have stretched the definition of human existance to the breaking point.
The origins of this conservative faction are not hard to see. It came about in opposition to those on the socialist left who treat abortion as not so much something to be tolerated but rather a sacred sacrament which they venerate with cult-like obsessiveness and even demand it should be supported by the tax money of people who abominate the practice. In resistance to this we now see some conservatives developing an equally extreme cult to whom being 'pro-life' means treating the intentional death of a fertilised egg as tantamount to murder and demanding the removal of the customary fiduciary role of a spouse in decisions such as the Terri Schiavo case when the spouse does not follow the 'pro-life' party line. Moreover these people describe courts which does not intervene in such a civil matter as 'activist judges' who should be opposed with force by the executive if they will not buckle under and act like a, well, activist judge. So when such a group which thinks extending the existence of the hapless Terri Schiavo's body regardless of the fact much of her brain was spinal fluid and pretending that being in some way reactive to light and sound means she was still 'alive' in any meaningful way, they cannot really be called 'pro-life' because it seems to me that Terri Schiavo's life ended many years ago. We are not talking about euthanizing someone who is horribly brain damaged and has been reduced to sub-child like imbecility (i.e. someone with at least a pathetic but identifiable remnant of a human existence), no, we are talking about someone with an effective intelligence of pretty much zero.
Now it seems fair to differentiate between three classes of people who opposed moves to allow Terri Schiavo's body to die:
Firstly, those who disagreed on the medical facts (i.e. felt that she was not persistently and irretrievably vegetative)…
Secondly, those who did not feel Michael Schiavo was the right person to make the decision because he had alienated his right to be regarded as Terri Schiavo's husband…
And lastly those to whom the only acceptable outcome was keeping Terri Schiavo's body alive regardless of who was nominally 'in charge'. It is this later group with whom I have the greatest disregard and who seem to me as being the ones making the most noise at the front of the pack.
For the first group, granted I am not a doctor but the publicly available evidence seems pretty clear to me. That said, I admit that opinions may vary but I can only go with what seems the most plausible theory. Likewise to the second group, it seems to me that Michael Schiavo's behaviour fell within sufficiently acceptable bounds to not disqualify him and that far from taking the 'easy way out', in spite of the character assassinations levelled at him, he did what he thought was best and was well within his rights to do so. Ann Coulter has certainly not convinced me that Michael Schiavo stands to get anything out of this other than the hatred of millions of people and precious little else. Again, I realise that reasonable people may disagree on these points. I certainly do not think all (or even most) of the people who took a contrary view were either unreasonable or immoral, I just think they were wrong.
To the third group however, no accommodation or meeting of the minds or even reasoned discourse seems possible. For me, the decision to starve this poor creature to death was wrong: once it was decided that the body that was once Terri Schiavo was better off dead, why not just have the courage of convictions to end it all with an more dignified injection? I understand the legal niceties of why it was done the way it was done but that does not make it the right or humane way to do such a thing. Terri Schiavo may have been past caring but the fact there are people who are so obsessed with prolonging physical existence even under the most horrendous circumstances that to 'do the right thing' would risk prosecution for murder, which is deeply disturbing.
I am fortunate that this blog means my views regarding what I would want for me if I was ever in Terri Schiavo's situation will be a matter of public record so not even Tom DeLay will be able to argue if someone wants to pull the plug on me if some day I get hit by a bus when in Florida. To demand the intervention of the state to ensure the continued bodily existence of a woman whose brain was made up of a high proportion of spinal fluid is not being 'pro-life', it is being 'pro-undeath', what we have here is truly an American Zombie Cult.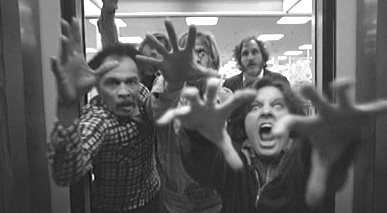 We want your votes!