It is often said that, in polite company, one should not discuss politics and religion. Samizdata does not pay heed to the first one and Brian and Jonathan have blown the second one, so I should be on safe ground.
Every year, at the Easter Vigil, a most spell-binding melody is sung during the liturgy. Last night, as every year, I listened to Exsultet chanted, this time at the church of Our Most Holy Redeemer and St Thomas Moore, in the darkness with only candles illuminating the entire church. Its purpose is to rejoice in the resurrection and marks the begining of Easter Celebrations. (Let's hear it for the barbaric Christian rituals.)
Exsultet of Easter Vigil is certainly my favourite piece of both poetry and music, with Allegri's Miserere coming close second. The orignal text, going back as far as St. Ambrose (4th century), entered the Roman tradition around the 9th-century as part of Gregorian chant tradition. It is a masterpiece of the liturgical tradition.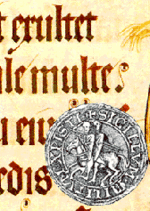 It is said to be the sublimest expression of joyful sound that has ever come from the human heart and mind. Mozart once said that it is the most beautiful music ever written and that he would have given all his works to be able to say that he had written the first line of the Exsultet.
I could not find a decent audio file that conveys its full beauty and impact, but I found the text and the music score.
Update: Here is an audio recording of the Latin version.