Months before I arrived in Los Angeles this past December, my friend Robert Avrech told me, "When you come to LA, I will take you shooting." Robert, an Orthodox Jew and veteran of the Yom Kippur War, has written about what Jewish law says about private ownership of guns, and has taught his wife and daughters how to load, unload, and shoot various guns. Could I have had a better teacher for my first time shooting?
And yes, that is right: Despite being born and raised in the USA, I had never touched a gun until my recent visit to LA. I was raised not to respect the power of firearms, but to fear them. I was raised to believe that the responsibility for personal defense lies not with the individual, but with the state. I was raised to believe a lot of wrongheaded, backward things about guns and what the US constitution says about them.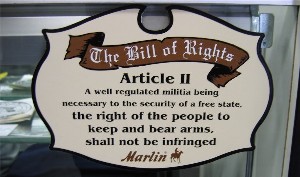 Our shooting expedition took place at the LA Gun Club, in a not-so-nice area of Los Angeles. Robert, who is a screenwriter and producer as well as a publisher, told me that if one ever sees a shooting range scene in a film, it was most likely shot at the LA Gun Club. The place itself is impressively stocked with a wide range of rental guns, ammunition, targets, t-shirts, and all the other accessories that a gun owner could want.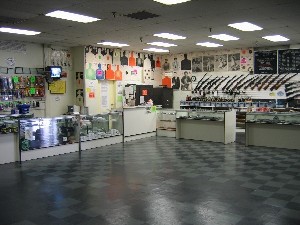 Of course, the clientele was made up of your typical right-wing gun nuts.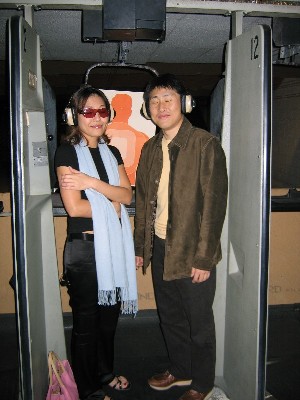 As Robert explained to me, Asians in LA realise more than most the necessity of being proficient shooters, as they are one of the most besieged communities and amongst the very first targets whenever a riot breaks out.
In case you cannot tell, I really enjoyed my first time shooting. I found the Springfield a bit too powerful for my girly arms, but the 'cowboy gun' – a Ruger – was very much to my liking. It was easy to load, a breeze to unload, and very fun to use.
I have a lot more training to undergo before I am a confident shooter. Alas, it looks like I will not be taking that training in London – or anywhere else in Britain – anytime soon. And with the regulations that the legislature insists on piling upon American gunowners, I would advise US-based readers to exercise their freedom to bear arms while they still can.