Last week I spent an evening pubbing with Samizdata reader 'Spacer' who writes for the Wall Street Journal now and again. As you can see, he was fully prepared for the Arctic conditions of the Upper West Side.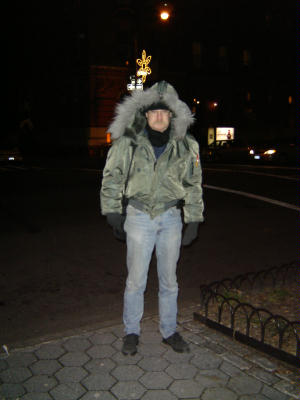 Photo: Copyright Dale Amon, all rights reserved
At the second pub we stumbled upon a group of his friends and next thing I was deep into a Cambridge style philosophical discussion on the existence of God. I am sure most readers know I am not the least bit religious in a fundamentalist way. I usually deflect the topic by declaring myself a "nonpracticing atheist". This unusual label typically confuses the opposition sufficiently to allow me to make good my escape.
A correct explication of my beliefs requires far more explanation and odd looks than I typically care for when my pub intent is to be chillin'. In truth I am more agnostic than atheist. I do not believe I can prove one way or the other that there is a higher being. In and of itself that is not an unusual belief set. The difficulty comes when I attempt description of the God of whose existence I am unsure.
I do not believe in the supernatural God of scripture; nor in a God of the First Cause. No God created itself and the initial Universe, but the Universe may quite possibly have created a God or God's, any one of which would be utterly indistinguishable from the all powerful God of earthly religions.
You may ask yourself, "What the hell is he talking about?".
So I will tell you.
A Taxonomy of Physically Possible Gods
We can describe different levels of Godness:
An entity with a command of all which physical law allows but which exists in a localized region of space and time. An entity which in addition is able to control space and time. An entity which exists at the end of space and time and can operate on any point in that continuum.
There are a number of paths by which entities may reach a state which we would call God.
God of the Simulation. If, as David Deutsch suggests in some of his writings, there is one reality (a multiverse) and untold numbers of simulated realities, then the initiator of a simulation is an all powerful God, limited only by the rules and initial conditions it chooses to follow. God of the Universal Mind. If Strong Nanotechnology really is possible, then any technological species will eventually gain the ability to build anything physical law allows. It will take control of its own shape, its own mind, its own destiny. Sentience may become a property of matter and the adage "God is Everywhere" become literally true. God of the Singularity. If we gain control of space and time, it may be possible to create an entire space-time universe bubble to specification. The creators may or may not be able to ever again interact with their creation, but they have set the parameters which define its evolution. The creator of such a bubble is a Creator, but not the Self-Creator of religious texts.
There are a number of different origins for these entities. Some origins do not apply to some God-types:
The entity could be 'ourselves' from a future time, or from the 'end' of time if our space-time is closed. The entity could be a progenitor from pre-existing space-time. The entity could be an alien civilization that developed past some threshold before we did. The entity could be some combination of any of the above, for instance, a mass mind existing at the end of time made up of all sentient species which passed the threshold for membership.
The type of Universe also may affect the possible types of God.
If there is a final big crunch, then the amounts of available energy per unit time and space increase exponentially as does the ability to compute. [This is from Deutsch]. In a Freeman Dyson open universe scenario, a civilization has exponentially less available energy per unit time and space, but adjusts by exponentially slowing down the speed of its own thoughts. It has forever to play with, so why rush? Entities which come to a full understanding of Space-Time may simply end-run all of this and move their thoughts to a new bubble universe.
All or none of these or any combination may be true. They are as beyond our ability to test as is the existence of the Biblical God.
The only thing they are not beyond is our imagination.