Yesterday President Chirac proudly opened the Millau Viaduct, to universal acclaim, not just in France, but from anyone in the world who has seen any of the photos.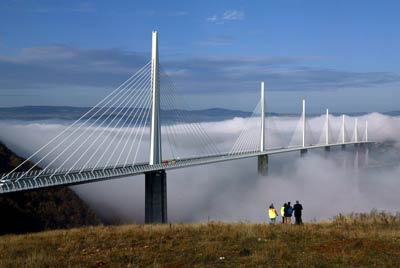 It is a truly magnificent structure. Yesterday I foolishly speculated that they might have saved billions had they been been willing to build something smaller and wigglier, but since this bridge in fact only cost an amazing €394 million that is flat wrong. And what is more, the entire cost of the bridge was paid by a private company, the same one that built the Eiffel Tower.
This bridge gives the world perhaps its biggest and juiciest taste so far of just what a huge impact on road transport the era of road pricing, now getting seriously underway, is destined to have. At first, environmentalists favoured road pricing, because they thought it would discourage cars. Alas for vain hopes. Road pricing make it possible for the private sector to build more and more magnificent roads. This bridge could never have been contemplated, let alone built, had the French not long been in the habit of paying to use their fastest roads.
It also illustrates perfectly just how amazingly bridge technology has progressed in recent years. The French had long known that they needed this bridge, and that it needed to be this high and this direct. It was just that until now, bridge technology did not permit its construction. And then … it did! With truly wonderful results.
The only tiny doubt concerns the fact that the architect (whatever exactly that means of what is essentially an engineering triumph) is the same architect as presided over the construction of the (aesthetically very pleasing) Millenium footbridge, in London. That famously wobbled when it was first opened. This was quickly fixed of course, and it was only a wobble, not a catastrophe. But I bet when that happened, the clients for this new whopper felt a teeny bit of a wobble themselves. I so assume, however, that all is completely well structurally with the new bridge.
The Internet is now quite properly awash with imagery of this masterpiece, and I have linked to many such views. In addition to all the regular pictures, I particularly like this one.