If you want to read about the truly extraordinary and deeply depressing paroxysm of anti-Americanism that has swept like a firestorm through the British media over the last few days and weeks (having merely smouldered for years), you can read about it here.
Of a particularly fatuous TV guide blurb ("Jonathan Dimbleby takes a critical look at the Anglo-US war on terror…"), Mark Holland has this to say:
A critical look! Just for a change. I don't know about you, but for me all those "Hey it's all going swell; Bush, Blair and Howard are doing fine; the oil for food scandal has lined the pockets of Saddam, the UN and Total Fina Elf; etc" documentaries have become a tiresome bore.
For me the most depressing British anti-American exhibit of the last few days was a rant by Peter Oborne in yesterday's Mail on Sunday. Having ignored the Mail, Sunday or of any other sort, for years, I had no idea it was capable of sinking to these depthsm and I only spotted it because I shared some coffee with Michael Jennings in my local Café Nero yesterday.
This picture, of the front cover of the Review section, sums it up well: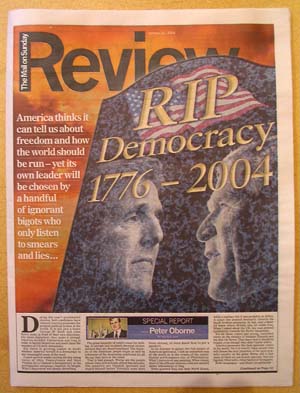 Click to get it bigger and more legible. If you really want that.
This is absolutely not mere anti-Bushism, for Oborne is vitriolically nasty about both Democrats and Republicans. Maybe this piece is available to read on the internet, but I cannot myself find it. I am actually rather pleased about that. But, just in case you suspect that "RIP Democracy" has been slammed on top of a piece which is not nearly as stupid as that, here are Oborne's first two paragraphs:
During this year's presidential election, both candidates have claimed America possesses the greatest political system in the world. It is not just a boast George W. Bush and John Kerry make in front of their own electorate. Far more important, they make it abroad. America invaded Afghanistan and Iraq in order to banish despotism and teach them the wonders of US-style democracy.

But there is growing reason to doubt whether America herself is a democracy in any meaningful sense of the word.
Yes. Apart from, you know, regular elections which neither candidate has any intention of postponing in the future, which millions of Americans vote in, for different candidates who argue with each other fiercely, including the challenger with the incumbent, whose various arguments get written about in very contrasting ways by a free press. Apart from those meaningful senses.
Idiot.
How seriously ought anyone to take this stuff? I cannot ever remember a time when British anti-Americanism was so strident and so nasty, and so deeply, deeply ignorant, stupid and bigoted. So maybe: very seriously indeed. On the other hand, American movies now, as always, dominate our TV screens and DVD shops, and American actors and actresses continue to chatter away happily on our TV sets as if stuff like this was never written. And I am not talking only about anti-American Americans talking on anti-American chat shows. Michael Moore is not the only American who gets a welcome here. I can detect no concerted move by British electro-scribblers away from Microsoft software. Maybe the ludicrously hostile intensity with which many Brits are now reacting to these US elections reflects not any attempt on our part to get separate, but just yet another spasm of resentment at how ever more permanently joined-at-the-hip British popular and political culture now is to American popular and political culture. Maybe it is just pure imperial envy, coinciding with the dismantling of the last of our armed forces, and our bitter acceptance of ourselves as Never Again a Great Power. Maybe it is all just got up by the press and has no real basis out there in British normal-land. You tell me.
What I do know for sure is that Peter Oborne of all people ought to bloody well know better than to denounce the USA as undemocratic. This is a man who, not that long ago was reporting secretly in Zimbabwe, for heaven's sakes. Phrases like "RIP Democracy" should be saved for when and where they are really needed and are actually true, not drained of all meaning by being slung at the USA, of all places.