Certain words, over time, have devolved from specific context to generic insult. 'Fascist' used to refer to a certain socioeconomic system involving nationalism and state control of industry; 'racist' used to denote a person who believed that his ethnic group deserved some privileges that other groups did not. In modern parlance, however, almost anything can be 'racist' or 'fascist'; go to any protest or peace rally and you will hear that the war in Iraq is 'racist', that opponents of a Palestinian state are 'fascist', and so on. These words now mean "something I disagree with or wish to belittle" instead of their original connotations.
I am sad to report that we are in danger of losing another word into this sinkhole: pornography.
Full disclosure: I am as guilty of this as anyone; I wrote a piece back in January talking about financial pornography. But abuse of this word has become widespread. WordSpy.com, a site that tracks the use of buzzwords in pop culture, has listings for "debt porn" (lurid tales of people bankrupted by credit card abuse), "eco-porn" (corporate shareholder reports that rave about the company's environmental record), "domestic porn" (Martha Stewart-eque magazines) and "investment porn" (fawning profiles of fund managers who 'beat the market' without regard to the fact that someone had to be above average.)
But now we may have witnessed the ultimate: sparing no rhetorical excess, the Center for Science in the Public Interest has denounced Hardee's new Monster ThickBurger, a concoction that contains 2/3 lb of beef, four slices of bacon, three slices of a cheese-like substance and mayonnaise, as 'food porn'.
Of course, CSPI and its founder, Michael Jacobson, are not interested merely in educating the public that gargantuan fast-food hamburgers are unhealthful. CSPI has advocated the taxation of meats, dairy products, and sodas, among other things. The website CSPIscam.com has extensive documentary of CSPI's various forms of activism: junk science, junk litigation and intimidation.
CSPI founder Michael Jacobson, according to the ActivistCash.com website,
… will not tolerate any of his employees eating "bad" foods. CSPI's in-house eating policy is so puritanical that Jacobson once planned to permanently remove the office coffee machine — until one-third of his 60 staffers threatened to quit.
I guess in that sense, though, fast food is a lot like porn: it is the same group of neo-puritan busybodies who oppose both.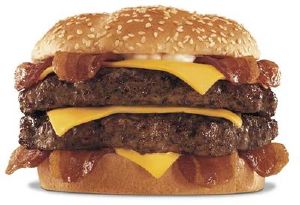 Samizdata: now a porn site?