I must say I am quite a sucker for the recent spate of films based on comic strips. I liked the Spiderman films, the Hulk, and even quite enjoyed the Batman films (the one with Michael Keaton, anyway). Well, another one off the conveyor belt is Sky Captain and the World of Tomorrow.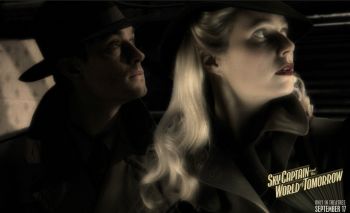 It has been panned by the critics, which is usually a promising sign given the nature of most snarky film reviewers these days, and I hugely enjoyed it. It has numerous fine qualities: WW2 fighter planes which can go underwater; futuristic aircraft carriers in the sky with great big Union Jacks on them; spiffy uniforms with Angelina Jolie wearing them; hot female journalists in classic 1930s garb with rakish hats and wavy hair (Gwyneth Paltrow), and big, biiiiiiig metal robots that do not talk but stomp menacingly around New York.
The film has no great 'message', I suppose, apart from showing how in the middle of the 20th century mankind, or at least the western bits of it, dreamed of a mechanised, high-tech future. The vision appears a bit comical to us now, but perhaps our age, with our interests in the Web and so on, will appear no less bizarre to generations hence.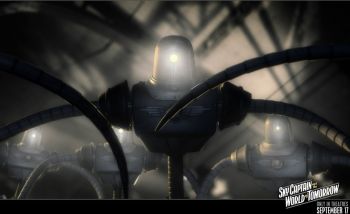 But never mind all that highfalutin' stuff. Go and see the film and have a feast of art deco kitsch with two of the most ravishing actresses now working. What's not to like?