Catching up with Croziervision, the other day, as you do, I came across this posting, which contained a kind reference to something I had said, which on further investigation proved to be an essay by me, attached as a comment to something Patrick himself had written earlier. There is nothing like the blogosphere for prodding you into writing, roughly and readily but as best you can, That Thing You Are Always Talking About.
Patrick did this to me by himself sketching out the Hockey Stick Theory thus:
What the hockey-stick model says is that often when the state intervenes whether by nationalisation, subsidy, taxation or regulation it will, every now and then, for a short time, improve matters. Then things start to deteriorate and eventually they end up even worse than they were in the first place. And the hockey stick? Imagine an (ice) hockey stick standing on a level surface. The blade represents the short up swing of state intervention and the handle the long subsequent down swing. I suppose to get the model just right you have to imagine the handle burying itself into the ground.
Or to put it another way, the state does this: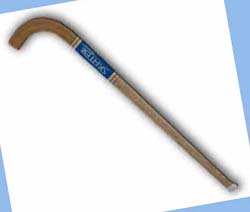 And, thus prodded, I then amplified, in the manner that follows. At the end, I even said that I ought to copy and paste this stuff into a Samizdata posting, but then I forgot about that. Now here it is. What follows is basically what I originally put in that comment, but I have changed a few things and added another hockey stick, so no italics. The shape of the graph you have clearly, but the reason for its shape could use a bit more clarification. It is essentially a matter of knowledge. Markets enable knowledge to be found. Price signals enable lots of people to discover what punters want, and it is this knowledge that the politicians begin their reign by making big use of. As a result, lots of punters get what they knew they wanted, but just had to pay less for it. This applies both to producers and consumers.
Although, whether this is a straightforward improvement for all concerned (such as the millions of taxpayers who together pay for this massive improvement for a few thousand) is open to doubt, but it definitely is improvement for the few thousand.
But then, the knowledge flow supplied by price signals gradually dries up, and eventually the government operation stops doing anything that anyone wants except the people in the government operation and in due course not even they. That's an exaggeration, but only somewhat. By the end of a truly awful nationalised industry, nobody has any clue about what constitutes an improvement. The only result is that money, more and more of it, gets spent.
The other application of the hockey stick curve is that when a market truly opens up, there is an equal and opposite tendency.
A new market is chaotic, and (and this is the point) ignorant. People do not, e.g., know how to spot cowboy operators, or bad products made in all sincerity but badly. Ignorance and foolishness abound, and so to start with, down goes the graph of achievement. But then, if this really is a true market, things bottom out and start to improve and in the longer run the result is a market that is orders of magnitude better than the government could ever have managed.
Or to put it another way, free markets do this: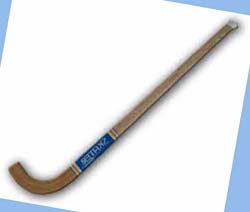 This helps to explain the (to many libertarians) baffling popularity of statism and baffling unpopularity of markets.
In the short run, for those in the immediate vicinity of the decision, state action really can be better and markets really can be very bad. And people with problems (regular people who get active in politics always have problems) do not have time to endure short run chaos so that they can later benefit from longer term excellence. So even if people fully understand the long term benefits of markets, they may still oppose them because of the short term costs.
However, often people find themselves living in the long term decline phase of government activity and then, even though markets will not immediately improve things, they will still favour markets because their only choice is: more misery now and even more misery later (government), or more misery now and the prospect of improvement later (market). The graph of goodness is going down now so fast that even the initial further downward movement of a new market (sticking hockey stick two on the end of hockey stick one, with the hook at the bottom of hockey stick 2 starting where the handle of hockey stick 1 ends) is worth living with, because long term benefit is all there is in the way of good future news. Things will either get worse before they get better, or, in David Carr's wonderful phrase from I forget where, they will get worse, before getting even worse than that. Those are the choices. In that world, it is the statists who are liable to be baffled by the mysterious willingness of people to tolerate free market reforms, as people pretty much have in the luckier parts of Eastern Europe. This was a classic illustration of people preferring (to switch metaphors from sports to food) jam tomorrow to no jam tomorrow, with no jam today being offered by anybody.
Something rather similar happened in Britain in the early nineteen eighties. In Britain at that time it was universally 'known' that Thatcher's refusal to keep on bankrolling failed industries was an unendurable horror. Yet so many voters saw the point of such an attitude that this is now the new orthodoxy.
I am grateful to Patrick for having stirred me into writing this down, and further grateful to him for having reminded me about having done so. Sorry about the weird shapes of the illustrations pictures. There are things I know how to do with Photoshop, and there are things like this. It was important to get the hockey sticks at the correct angles.