Here, at last, is the truth that the US Government tried to suppress.
They did not want the world to know but, thanks to the painstaking forensic skill and integrity of the Fourth Estate, the skeleton is finally out of the closet!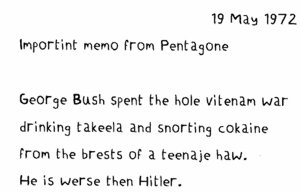 "We stand by the authenticity of this document" – CBS

"…..the smoking gun" – Reuters

"…incontrovertible proof" – Guardian

"…a major setback for the Bush Whitehouse" – BBC

"What else are they trying to cover up?" – New York Times
Case closed.