On Saturday afternoon, a gorgeous looking Russian seventeen-year-old called Maria Sharapova won the Wimbledon Ladies Singles title, and the media have been in raptures ever since. Personally I was enraptured ever since she won her quarter final against a Japanese lady. But when Sharapova beat Serena Williams in the final, the world really noticed.
When Sharapova plays, she looks like a Bond girl. When she has won, she immediately becomes a giggly American schoolgirl. She is, from the female gorgeousness point of view, the biggest thing in tennis since the now somewhat ageing Anna Kournikova. Plus, she can really play. (Kournikova never won Wimbledon, or anything else big that I recall. Not that I ever cared.)
So, I was not surprised when our very busy-with-other-things but still very caring and concerned editorial supremo asked me last night to dash off a posting about the lovely Maria, so that we could have a picture of her up here.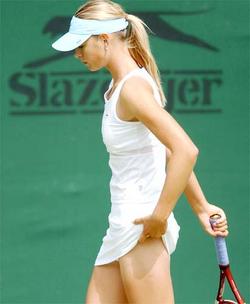 However, underneath all the drooling from the likes of me and Perry, there is a more serious story here, which is why it took me a bit longer to write this than I promised last night. Yes, Sharapova is gorgeousness personified, and long may it last. But there is more going on than this. I can imagine some Americans regretting that their champion, Serena Williams, got beaten by a Russian. Yet, for all that she is Russian, Maria Sharapova is also as American as Apple Pie. She and her entire family came to America. On the back of betting the farm on young Maria's talent as a tennis player, her family chose America, and what could be more American than that?
Born in Siberia, the one-time pauper took home over $2.5 million in Wimbledon prize money – but that will be only the beginning of an earnings career that looks likely to make her the wealthiest Russian tennis player in history.

…her father, Yuri Sharapov, who travelled to Florida 10 years ago after leaving Chernobyl with life savings of $1200 in his pocket, will shield his striking daughter from many of the offers, but there is no shortage of suitors.

Sharapova was spotted as a 6-year-old during an exhibition match in Moscow by Martina Navratilova, who took her under her wing, a relationship that earned her a spot in Nick Bollettieri's prestigious Tennis Academy in Florida at the age of nine.
I had already decided that I was going to tie this story to the similar tale of Martina Navratilova, because Navratilova has a lot in common with Sharapova. Navratilova also went west to find freedom, on the back of her extraordinary tennis talent. A picture of Navratilova is not what Perry de Havilland had in mind when he asked for this posting, yet I feel that it is entirely appropriate. Navratilova found the exact same thing in America that Sharapova has found: freedom. The freedom to develop her amazing talents, and the freedom to be herself.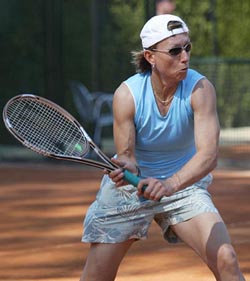 Now, I agree that when confronted by Martina Navratilova, the Samizdata droolometer behaves very differently to when it is confronted by the likes of Sharapova, especially when you factor in Navratilova's sexual preferences, but underneath all the joking, the story is very similar.
"I was so stubborn, so independent, that I was more American than Czech, even as a little kid," she reflects in her autobiography, written in 1985 with New York Times sportswriter George Vecsey. "I didn't feel I belonged anywhere until I came to America for the first time when I was 16. I'm not a mystic about many things – I tend to be pretty pragmatic about life – but I honestly believe I was born to be American."
I bet Sharapova would say just the exact same thing. Believe it or not, Martina Navratilova actually played again, this year, at Wimbledon, at the age of 47 (but this time really for the last time), eventually losing in the women's doubles semi-finals.
After Sharapova had won her title, the BBC's commentators all started clucking anxiously to the effect that, although in itself very sweet and all that, this story might be setting others a bad example. What if dozens of other families bring dozens of other wonder-kids to America, but then the wonder-kids do not win Wimbledon, and what if they are all then disappointed? Don't risk everything and come to America. What if you fail? What if you don't live out the American dream? It was all so desperately British. (British national motto: Better safe than American.)
But I cannot for the life of me see that any sort of bad example is being set by Sharapova and her redoubtable clan. The worst that could have happened to them was that they would have become rather poor and disappointed Americans, and the same applies to any others who follow their example and arrive in America with their super-tots but do not do so well as the Sharapova family did. Being a poor and disappointed American is nothing like the worst thing that can happen to you in this world, no matter what the BBC may say.
In the unlikely event that no one has yet done a cartoon of the Statue of Liberty waving a tennis racket, this omission should be corrected at once.