Monday night, I and Samizdata editors Perry de Havilland and Adriana Cronin-Lukas went to the House of Commons in London for the launch of the Hansard Society's new report on blogging. Pointing out what is wrong with the report will be tackled soon enough, but the overall message of the night is what really got to me – and not in a good way.
The launch was being held in Westminster Hall, where the Hansard Society has set up an exhibition called House to Home: Bringing Parliament and people together. The first thing about this exhibition – after the huge plasma screens showing shots from parliamentary debates and self-conscious, empty elements like stacks of chairs hanging suspended from the ceiling – that caught my attention was the large banner telling us that "Politics matters". Not only that, but that "Politics shapes us as a society".
You can imagine how we each reacted to that supposed axiom from the Hansard Society, the "independent, non-partisan educational charity"…whose exhibition just happened to be sponsored in part by the government's Department for Constitutional Affairs and the Electoral Commission.
The information guide that accompanies the exhibition, copies of which were handed out to everyone present at the launch, contains even more such gems. First, some good news:
If politics comes on the TV the first reaction of many of us is to switch over…'[O]fficial politics', the formal meetings and speeches that happen in Parliament and in Downing Street, is fast becoming a minority interest: and this worries us.
Glad to hear it. But did you know that freedom of speech – along with freedom of religion and freedom to protest – is something we only have because of the government? According to the Hansard Society:
Over time, Parliament has reached out to represent more and more of the people of the country, through the extension of the right to vote, to the granting of freedoms of speech, protest, religious practice and free education.
Hmmm. Which one of these is not like the other? "Free" education is something to which each human being is entitled just by virtue of having been born, according to the "independent, non-partisan" Hansard Society's government-sponsored exhibition. The "educational charity" also informs us that it was the benevolent Parliament that recognised this in law – and that it was the benevolent Parliament that granted us freedom of speech, to protest, and to practice religion. What is more:
[I]t is possible we could lend Parliament even more power to speak up for us.
The Hansard Society has also provided a handy guide to "How to have your say," including tips on how to solve the vexing mystery of which constituency you live in. The guide advises us to decide which candidate and which party is most likely to speak up for what we believe in. But what if the answer is "none of the above"? Well:
If none of the parties speak for you, stand for election yourself.
Hey, that is helpful.
Finally, on page ten of this pamphlet, the Hansard Society comes clean:
This project is about changing a mindset.
Indeed. It is about telling people that it is imperative that we "get involved" in the political process – because, don't you know, we would not have any rights if it were not for the government! And it is about freedom of expression being something that only politics can enable. As the Hansard Society puts it:
[W]e need to explore ways to allow politics to give us greater opportunities to express our views.
Because expressing one's views can only come about through the good grace of politicians. The scary thing is, the government is taking our money to fund the "non-partisan, independent" Hansard Society's efforts to spread this message. That is to say, British taxpayers are funding this "independent" propaganda machine.
Ah, well. It was a night for such things. Walking along Victoria Street from the House of Commons, Perry snapped a photo for me of one of my most loathed views in London – a government propaganda ticker that repeats the same message over and over: "London is getting safer…"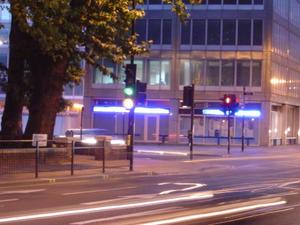 Still, the night was not all dispiriting. Leaving the House of Commons, I paused to admire a police guard's impressive guns – two Glocks in the holster and a machine gun thingy (that is the technical name, I believe) in his hands. He was eager to show them off to me, and seemed happy to encounter someone who had respect for the weapons and his proficiency with them. It was enough to make a crunchy granola gun-control activist weep – which was more than enough to make me smile.