I recently gave a presentation in Bratislava, Slovakia, on the evils of 'competition policy' and the 'entry and exit costs' economic model, which is little more than an excuse for more business-killing government intervention.
My first trip there in 1991 had been as economic and political adviser to that country's Prime Minister when Slovakia was part of the Czech & Slovak Federal Republic (1989-1992). In those days, talking about a single tax band, a competitive advantage of Slovakia compared with Germany, why an independent Slovakia would actally reform better than under Prague tutelage and so forth was often like trying to explain Switzerland to a Pol Pot survivor.
The first photo that I took in 1991 was of the Iron Curtain seen from the Austrian side, a forest of trees leading up to the jagged line of a forest of rotting concrete.
This time on the way back I took a coach from Bratislava to Vienna airport. The following photos show the turnaround.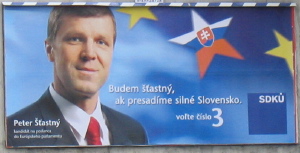 Slovakia�s ruling coalition: conservatives and libertarians
(photo taken at Bratislava bus station)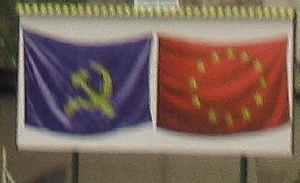 This Slovak election poster for the EU parliament
seems to get the message. (Sorry about the
quality but I snapped it out of a coach window
on a bend, outskirts of Bratislava)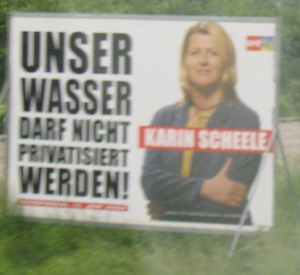 Austrian Social Democrats know what they stand for:
No privatisation!
(dotted all over the Austrian countryside North of Vienna)