Trade here seems to be rather thin (although since I first put that it has got a bit thicker), just as it seemed to be this time yesterday. And this time yesterday I started concocting a posting (for my Culture Blog and to link to from here) about the strange things to be seen on or from Chelsea Embankment, just to the south of Samizdata HQ (which I was visiting the other day for reasons that need not concern you). This morning I finished it. Thinking about this posting some more, I now consider the ducks to be rather mundane. But the red sailed sailing boats and the bus are quite fun, I think.
Here is one of the red sailed sailing boats.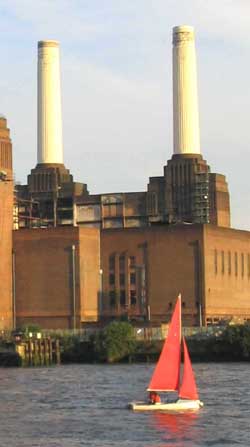 The point is that you do not see little sailing boats on the river in London very often. I seldom do, anyway. Follow the link above to get to a bigger version of this picture, and for the bus and the ducks, and for further commentary.