Gabriel Syme and I (and a certain Frogman) have been away from our keyboards for a few days because we have in Geneva, adding our efforts to that most worthy of activist groups, Bureaucrash, on the occasion of the first outing of Eurocrash in Switzerland. The target for our attentions was the Fifty-seventh World Health Assembly held by that hotbed of socialist obscurantism, the World Health Organisation.
The simple message of the Eurocrash was not something all too many of the people participating in that tax funded Tranzi event wanted to hear: Capitalism Heals/Socialism Kills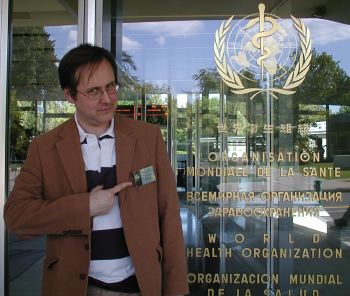 Step One: Infiltrate the WHO events by getting a badge…


Step Two: wander over to the UN Palace of Nations…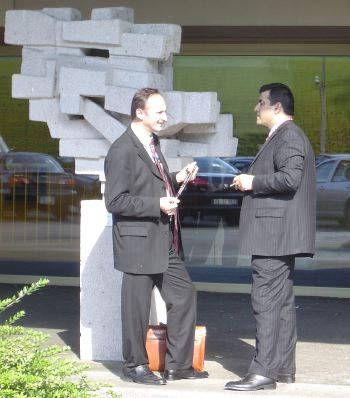 Step Three: take embarrassing pictures of UN type folks smoking in front of where WHA sessions are going on…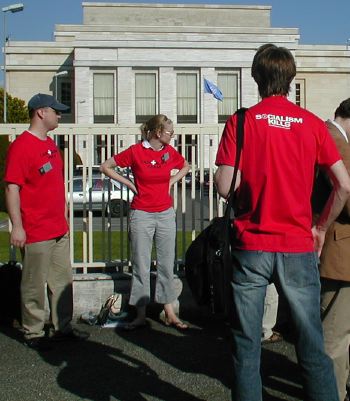 Step Four: hand out pro-capitalist leaflets designed to demonstrate that there is more than one point of view…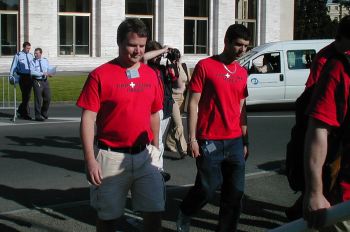 Step Five: get run out of town by UN cops…
Although it was all only a very small fly in their ointment, it was all worth it just to see the incredulous expression of people at the notion of pro-capitalist demonstrations on UN property.
The next round of jolly japes immediately afterwards was to crash the screening of a new film by socialist activist German Velasquez, called 'Profits or Life?', which criticises attempt to uphold the intellectual property rights of pharmaceutical companies who have developed many life saving drugs. Velasquez was supported on a Q&A panel afterwards by Marxist activist Carlos Correa. Twenty or so Crashers turned up to to ask a few rather awkward questions and distribute some rather clever leaflets which dissented from the movie's message…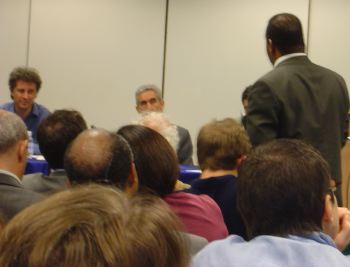 Crasher Niger Innes asks why, given that the
panel was representing itself as the voice of the
poor in Africa, there were no Africans on the panel? Ouch.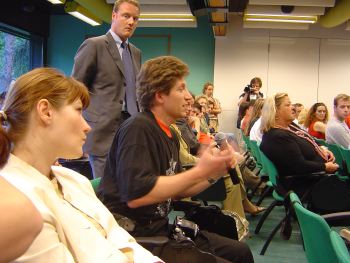 Crasher Stefan Metzeler points out that as the
majority of drugs are not under patent anyway,
blaming intellectual property rights for the Third World's
health problems, rather than massive regulatory statism and
a lack of free trade, is rather idiotic…
And then who should appear in the audience but Dr. Harvey Bale, who Velasquez's movie has cast as 'the ugly American Bad Guy on the side of the evil pharmaceutical companies'. Far from being the sinister character 'Profits or Life?' portrayed him to be, he turns out to be an urbane and very articulate fellow as he addressed the point which had been made on-screen. Never have I heard a man demolish another man's arguments so systematically and yet remain utterly charming and polite.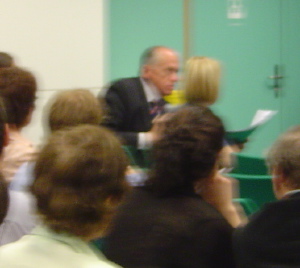 And then Dr. Harvey Bale, the Director General
of the Geneva-based International Federation of Pharmaceutical
Manufacturers Associations had a few words…
And with that, the Crashers vanished into the surroundings… well, into Geneva actually in search of food and drink. A fairly interesting time was had by all and I found the event a very useful networking opportunity as well.