One of the great pleasures and advantages of living in Pimlico, in central London, is its proximity to one of the world's great art galleries, The Tate, a fine classical building looking over the Thames. Recently my girlfriend and I went around two separate exhibitions and had two contrasting experiences not far different in extremes from the North Pole and the Sahara Desert.
The first exhibition was a display of Pre-Raphaelite art, from that group of talented, romantic and at times eccentric group of artists in the middle of 19th Century England. They took their inspiration, as the word pre-Raphaelite suggests, from the Renaissance artist Raphael. Some of them were intensely religious, while others took a passionate interest in the natural world.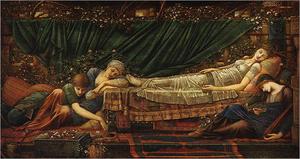 I must say I have mixed reactions to their art. Some of the paintings, particularly the coastal seascapes and the depictions of the Swiss Alps, were stunning. Others, while rendered with incredible attention to detail, left me rather cold. There is something almost rather mannered about this art, as if it was produced by someone trying too hard to impress. On the whole, however, I could not fail to be struck by the descriptive lust of these artists, their desire to convey the world as they saw it and as it could be.
And then, after a slurp of wine – we were at a private viewing – we set off to another part of the Tate for an altogether different experience, namely, a selection of 'art' (I will explain the inverted commas a bit later) by some of the world's newest artists, including the so-called enfant terrible of the Brtitish art establishment, Damien Hirst., and Sarah Lucas, about whom I had not heard before.
Some of the exhibits featured dead animals inside tanks containing fluids, bits of sausages, live fish, a brain, bottles of wine, a bucket, and other bits and pieces I could not readily identify. Two exhibits were models of people undergoing surgery, with nothing showing apart from their genitals. Several large oval-shaped boards were covered with hundreds of dead butterflies. An empty full-size truck cab, plastered in its interior with tabloid newspapers, had a man's arm pumping up and down in a familiar sexual act. In fact, several exhibits seemed to portray human bodily functions, as if the exhibits had been assembled by a sniggering, slightly conceited 12-year schoolboy trying to shock his elders.
I will not deny Hirst and others like him are folk with a certain talent. They are talented in much the same way that pickpockets can be said to be talented. But to what effect? So much of his art seems to shout, "I am taking the mickey out of you stupid, repressed middle class wankers"……No doubt Hirst thinks he is being ever so clever and subversive, and judging by the large audiences for his work, he probably is. What perhaps is forgotten is that the image of the artist as the mocker of bourgeois sensibilities, far from being daring and new, is in fact very dated, and bang in line with the ethos of the Modern Art establishment. They are the bores of our age.
There you have it. About 150 years from the Pre-Raphaelites, we have gone from the ability to portray nature with passionate concern for accuracy, and an essentially warm embrace of human life, to lumps of meat in tanks, and to images of human beings sitting on the toilet, smoking a cigarette. Perhaps these folk really have caught the meaning of Blair's Britain, after all.
Addendum: if you are as disgusted as I am by the bogus nature of much modern art, but cannot always put that disgust into words, then I strongly recommend the book, What Art Is, written by Louis Torres and Michelle Marder Kamhi. It unashamedly defends representational art, questions whether certain forms, such as abstract painting, really can pass muster as art, and perhaps controversially, argues that photography does not pass the test. I do not agree with everything in the book but it is well worth the attention.