Trafalgar Square is located at the geographical centre of London and, next to 'Big Ben' and the Houses of Parliament, it is probably this country's most famous landmark.
Named after the 1805 battle, the Square is dominated by a 200 foot column on top of which is perched a bust of the Horatio Nelson, the Admiral who let the Royal Navy to victory over the French and thereby saved Britain from Napoleonic invasion. The column that bears his name and image was built from donations offered up in tribute by a grateful nation.
In the four corners of the Square there are four plinths. Three of them are occupied by statues of King George IV, General Charles Napier and Major General Sir Henry Havelock. The fourth plinth is empty and has been since around the middle of the 19th Century.
A few years ago I became vaguely aware that there was something of a campaign to find an appropriate monument to place on the fourth plinth. I say 'vaguely' because I paid little attention to this campaign, partly because I have better things to do with my time and partly because I learned that the process was to be decided by means of a competition under the auspices of the Mayor of London, Ken Livingstone. I anticipated that I would most likely disapprove of the outcome.
My instincts proved trustworthy yet again for, this last week, the winner was unveiled.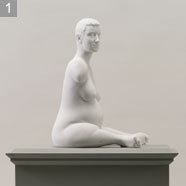 As you may already have guessed from the image, Ms. Lapper has never led anyone into battle nor has she ruled a kingdom. Instead, she has managed to bear a child despite being quite severely disabled. Apparently, this makes her worthy of iconic status. Or, perhaps that should be ironic status, as the sculptor (someone called Marc Quinn) explains:
The artist, Marc Quinn, says the 15ft marble sculpture of Alison is an antidote to the men in Trafalgar Square. He wants to introduce some femininity among Landseer's lions, because he believes Nelson's Column is the epitome of a phallic monument. After 160 years during which no one could decide what to put on the fourth plinth, this is a victory for women.
I was not aware that anyone was clamouring for an 'antidote' to the triumphal Nelson or the glowering Charles Napier but nonetheless Mr. Quinn's testimony is valuable because it gives us an insight in to the reasons why 'Alison Lapper, Pregnant' so appealed to the Social-Working Classes who were running this operation. They wanted, no needed to find something sufficiently post-modern, post-British, non-judgemental, diverse, inclusive, multi-this and inter-that and what could possibly fit the bill more sweetly than a pregnant, disabled artist of no particular note or renown. She is just too deliciously deconstructionist to warrant anything other than pride of place.
As per usual with these things, the unveiling has been accompanied by a wave of breathless, excitable mummery about 'representing 21st Century Britain' and so forth but this carving is not about the future, it is about the past. More particularly it is about rudely and pointedly rejecting the past. As much as the organisers might like to think of themselves and their project as 'new' and 'bold' and 'different' there is, in fact, a wearily familiar pattern here.
New regimes that have triumphed over old regimes often have it within their gift and their desire to physically erase all symbols of that old regime from the landscape. It would not, therefore, surprise me in the least to discover that the Mayor of London had at least toyed with the idea of removing Nelson and Napier and Co and having them shipped off to be broken up. Possibly they felt that the time was not yet right for such radical surgery. More likely the cost was prohibitive. But if they cannot destroy the symbols of the past then they can at least desecrate them and desecration is precisely the function of 'Alison Lapper, Pregnant'.
I have no desire to be disparaging to Ms. Lapper herself. I do not know this woman but I do sympathise with her for the struggle she has to endure to her unfortunate disability. I wish nothing but well for her and her family. However, her representation does not truly have the power that her sponsors hope it will have. She has not sufficient moment or significance around which a new identity can be forged. In fact, I am confident now, that Nelson will still tower over Central London when her craven image has been toppled from its pedestal and sold for scrap.
Nelson and Napier were not just war heroes and grand imperial adventurers. They were members of the then ruling class and their statues are symbols of the ruling order; spatial representations of their imperial grandeur and permanent reminders of who was boss. 'Alison Lapper, Pregnant' is precisely the same thing. It is a symbol of conquest commissioned by members of a new ruling class to remind the public of exactly who now has power over them. She will only last as long as they do.