Jack Vettriano may sound like a Sicilian mobster but, in fact, he is this country's most popular and successful artist.
Born in Scotland, he started out his working life as a mining engineer before a girlfriend bought him a set of watercolour paints for twenty-first birthday. He taught himself to paint and embarked upon a career as an artist. Today, reproductions and prints of his work massively outsell those of Monet and Van Goch and originals hang in the collections of the wealthy and famous (making Vettriano pretty wealthy and famous himself).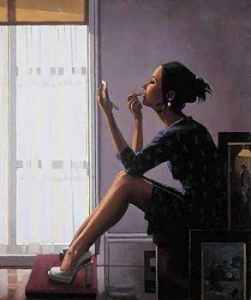 Only the Deepest Red
Vettriano's deeply evokative work is rich in art deco erotica noir: elegant, sexy and (in this day and age) subversive. While many artists use a canvas to tell a story, Vettriano uses his to write a seductive novel full of unambigiously masculine and feminine characters. In short, Jack Vettriano is a Capitalist Hero. He has used his gifts to make art which enchants, engages and enriches people's lives to his (and their) benefit.
And it is for those very reason that, in certain circles, he is so loathed:
Prints of his paintings outsell those of master impressionist Claude Monet, making Jack Vettriano a very rich man. But he is still stung by the disdain with which the art establishment treats him.

"I would be lying if I said that some of the things they have said over the years haven't bothered me. They have," he told Reuters. "They have a fairly arrogant stance."

"There is jealousy, envy, the fact that they had nothing to do with training me, and the fact that I am popular. All of these things fuel their attitude," the self-taught former Scottish coalminer said in an interview in his London studio.
The reason he is so good is most assuredly because these people had no part in his training. Nor should Mr. Vettriano take their naked contempt as anything other than the finest compliment. It is, per se an affirmation of his quality.
What he refers to as the 'art establishment' in this country is actually a tax-funded clique of 'gatekeepers' whose power rests on their self-defined status as members of an aesthetic order that is way above and beyond the 'crass populism' of genuine creative endeavour. This avant-garde elite live by their grip on state purse-strings and if you can find significance and 'art' in a jarful of pickled dogturds, so much stronger is your claim to membership of this 'Priesthood of Understanding'.
It is in their interests to perpetuate the myth that without government funding there will be no art or culture. The success of Jack Vettriano is a standing refutation of that myth. Small wonder that they despise him.
So Jack Vettriano paintings will continue to change hands for huge sums of money while the scions of the Royal Academy refuse to touch his work with a bargepole. Good. I like it that way. And so should Mr. Vettriano.
However, for fans (and for those who have yet to discover him) the Portland Gallery in London is mounting an exhibition of Jack Vettriano's work starting on June 19th Next.
I will be there (along with thousands of others).