Scott Wickstein takes a look at how farmers in so many parts of the First World get away with distorting trade at other people's expense, both via pocketing taxes and inflating prices in the supermarkets of Australia, Britain, Europe and North America
To the list of certainties in life, such as death and taxes, we can add the fact that farmers will clamour for protection and subsidies. That is not surprising, but what is surprising is that around the globe, governments of all persuasions, whatever their nature, are willing to obey the demands of their farm lobbies.
A typical example of this is the recently concluded free trade agreement between Australia and the United States. Much of the agreement is actually devoted to excluding certain products from free trade. One such product is sugar, which was excluded at the behest of the US sugar producers lobby. That exclusion, in turn, provoked such an outcry by Australian sugar producers that the Australian government felt obliged to provide subsidies for the Australian sugar farmers.
From these actions, one can conclude that the political clout of the US sugar producers is much greater then that of sugar consumers, such as confectionery manufacturers. And yet, this is but a manifestation of a trend which is global. All over the world, governments are all too willing to knuckle down and obey the demands of their farm lobbies. That politicians do this, and run the risk of enraging urban electorates, speaks volumes about the organization of farm lobbies, and, indeed, it also shows how disorganised free trade proponents are. These guys know all the tricks. In Japan, the rice farmers are especially well organised, and Japan is famous for expensive food. French farmers are famous for rioting to get their way. American sugar producers have the ear of Congress; and US cattle farmers know that one of their own is in the White House. In Australia, most tariffs are gone but the farm lobbies have become adept at using the quarantine regulations to keep competition away.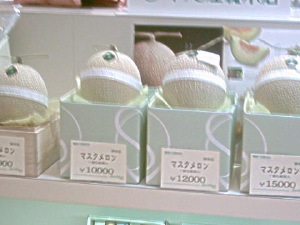 How happy are people in Japan that they have to pay $120 per mellon?
Farmers are also adept at getting governments to distort the free market for their benefit. One of the more outrageous distortions is in water, essential for irrigation, which farmers are getting clever at getting their hands on at dirt cheap, and manipulated, prices. This is a big issue in southern California, and in Australia, where excessive irrigation is having a negative impact on the health of the Murray River, at the expense of urban consumers. No one seems game to tell the farmers to pay their way. In Australia, at least, this stinks of hypocrisy, as the local farmers lobby has been very loud in shouting for free market efficiency for everyone else. The farmer's federation was very active in the waterfront dispute of 1998, which saw market competition make Australia's ports competitive for the first time, to the benefit of farmers.
How do farmers get away with this? One has to admit that they have worked herd to get into the strong position that they are in. I am sure that they realise that it does not matter that the intellectual case for protection is puerile, as long as the political case for protection is unarguable. This cause is helped by cultural arguments about the place of the farmer in the life of the nation. This argument strikes a chord all over the world.
This does not change the fact that farming is a business and the rule in business is generally that the prizes go to the smartest and the best run. Nations that mollycoddle their farmers with tariffs do themselves no favours in the long run. I actually heard an Australian farmer admit this on the radio in about 2000, talking about a US farm subsidy bill. He agreed it was bad for Australian farmers that were trying to break into US markets, but he felt it was good for Australian farmers in a global sense, as it kept US farmers from restructuring the way they farmed. Alas, this remains very much a minority view.
How can free trade advocates make headways in these protectionist times? I think it is important to keep making the intellectual case for free trade in food, easy as that is. However, it is also important to make the political case to. It might be time, perhaps, to revive the Anti-Corn Law League, and make it a global organization. It seems to me that the only way to get through to legislators is to defeat them at the ballot box. However once this has been done a few times, the others will fall into line. So that is the political challenge we face – to make it clear to legislators that they will pay an electoral price for their protectionist views.
Scott Wickstein
1 = with apologies to the Rev. John Knox.