I was and am a devout anti-Communist. I rejoice that civilisation won the Cold War, detest the evil folly that was Marxism-Leninism-Stalinism-decrepitudism, and regret that the Russian Revolution was not strangled at birth. But (and you could hear that coming couldn't you?) as far as I am concerned, Dimitri Shostakovich (1906-1975) was almost certainly a better composer after Stalin had given him his philistine going-over following the first performances of Lady Macbeth of Mtsensk, than he would have been if Stalin had left him alone. Although both are very fine, I prefer Symphony Number 5 ("A Soviet Artist's Reply to Just Criticism") to Symphony Number 4.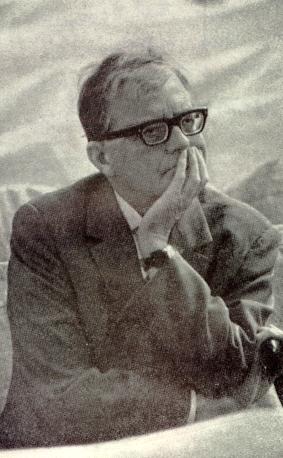 Had Shostakovich continued unmolested along the musical path he was travelling before Stalin's denunciation of him, I don't think he would merely have become just another boring sub-Schoenbergian modernist. He was too interesting a composer for that already. But I do not think his subsequent music would have stirred the heart in the way his actual subsequent music actually does stir mine, and I do not think I am the only one who feels this way. Thanks to Stalin, if that is an excusable phrase, Shostakovich was forced to write what is now called 'crossover' music, that is, music which is just about entitled to remain in the classical racks in the shops, but which also gives the bourgeoisie, such as me, something to sing along to and get excited about. Shostakovich had always written film music as well as the serious stuff. What Stalin and his attack dogs did was force him to combine the two styles. He might well have ended up doing this anyway, but who can be sure?
What Stalin also did for Shostakovich was to make his music matter more. Thanks to Stalin (that phrase again!) every note composed by Shostakovich became a matter of life and death – while it was being composed, and whenever you listen to it. Stalin turned Shostakovich into a kind of musical gladiator, a man who knew that every day might be his last. Not many composers get that kind of intense attention.
One of my little hobbies is giving career counselling advice, and like many career counsellors, I often ask people: what would you do today if you knew that today was to be your last day on earth? The point being that the guy would live well. He would do the things that mattered to him most, that he most believed in, that he was meant to do, so to speak. In religious language (in which as an atheist I am not fluent), he would do what God had put him on this earth to do. Stalin created those circumstances for Shostakovich for real.
How does an artist function if he lives permanently on Death Row? Most would have buckled, but Shostakovich functioned very well. He was a naturally nervous man. Indeed, someone should write a narrative song about the life of Shostakovich with the chorus "and Dimitri Shostakovich was a very nervous man" at the end of the each verse, the point being (a) that this was his nature, but that (b) the course of his life gave him a hell of a lot more to be even more nervous about. What Stalin did was to make sense of Shostakovich's life, to pull it all together. Stalin gave external validation to Shostakovich's own natural disposition. He made his life much less enjoyable, but he made it count for far more.
None of which could possibly have happened if Shostakovich had actually been killed by Stalin, as Stalin killed so many others. Death Row is not Death Row if nobody actually does die.
Enjoying the music of Shostakovich is the moral equivalent of making use of the research discoveries made by Nazi experimenters in concentration camps who studied how people died by killing them.
All that intensity and consequent intense meaningfulness, if that's what it was, was paid for with an ocean of the blood of other artists, of other human beings. Still, it is worth pointing out that some good did come of all the horror. The price was absolutely not worth paying, but given that it was paid, I am glad there is something to show for it.