Via the constantly diverting Dave Barry comes news of the state of the popular arts in Russia.
You know those nesting dolls they have there. Putin on the outside. Undo him and you get the Fat Drunk Guy, undo him and you get Splotchtop, then another Fat Drunk Guy, then Andropov, then Brezhnev, and so on down the list of the Soviet Hall of Shame. This could all be in the wrong order and I could well have left out a couple of Drunk Guys, but you get my drift. Those dolls, is what I mean. Well, now they have nesting dolls with rock star faces on them.
The really cunning one would be a set of different Elvises, starting on the outside with Very Fat Elvis just before he died, and working back via Las Vegas Elvis, GI Elvis, to Original Elvis. But I do not think they have yet got around to doing that.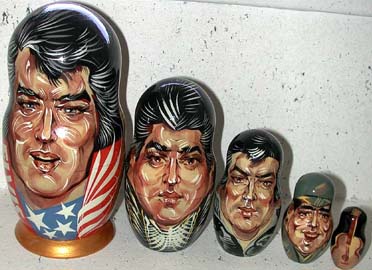 Nevertheless, I love it. Says it all. Think who the dolls used to be, and now look at them. Another triumph for capitalism.