Ed Driscoll wrote a piece about evolving guitar technology in Friday's installment of TechCentralStation, and after searching desperately for any thinly-veiled excuse to write about it, I stumbled across an angle.
With a lot of manufactured goods, their production tends to get 'outsourced' to the third world because (1) eventually everyone figures out how to do it and (2) capital markets can finance production almost anywhere on the globe. The only thing more predictable than this evolution is that politicians will never stop whining about it.
One trend that Driscoll does not pick up on is that this is also happening with guitars. Just as American streets are filling up with Korean-made autos (more Korean cars are sold here than German cars) the American guitar shops are filling up with Korean-made (and now Chinese-made) guitars. The Korean manufacturer Samick now accounts for almost half of the world's guitar production. Even Gibson, best known for its estimable and pricey Les Paul (see photo below) is offering high value from its Epiphone series guitars (which Samick builds for them in Korea.)
If you have ever picked up a surviving 'bargain' guitar of the '60s in a pawnshop or a secondhand guitar store — a Harmony, Kay, Eko, etc. — you would likely find cut-rate construction, weak intonation, mediocre playability and thin-sounding pickups. But today's 'bargain' brands offer workmanship and playability that sometimes give the premium brands a run for their money. Danelectro, for example, makes hip, great-sounding guitars that are easy to play and can be had for about US$200.
To give you an idea as to how far this trend has already gone, I personally own a $40 guitar. I was ordering the Line 6 Guitar Port (the guitar-to-PC interface that Driscoll mentions in the article) when I discovered that the vendor was offering the device a la carte for $160 or packaged with an electric guitar for $200. My curiosity got the best of me – how bad can this $40 guitar be? – and I ordered the package deal. And you know what? The cheapo guitar is terrific. It does not hold its tune as well as my main Gibson, but it is easy to play and sounds good to boot.
Driscoll is right that we are not going to see a lot of major innovations in electric guitars anytime soon, in large part because the players themselves are somewhat resistant to change. (Even the most avant-garde noisemakers tend to prefer traditional guitar designs.) What we are seeing instead is global capitalism commoditizing electric guitars and making quality instruments more affordable than ever for a generation of young players.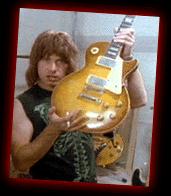 The sustain, listen to it!