Well, lovers out there, St. Valentine's Day is rapidly approaching. For those in the mood I heartily recommend the new CD by that wonderful young diva, Norah Jones, who's debut album has already sold a reported 17 million copies worldwide.
Ms Jones's success and background got me thinking on an important cultural point. We are led to believe, for example, that globalisation will lead to the extinction of local, unique cultures and the replacement of a sort of mushy global soup. And yet as the writer Tyler Cowen showed in a recent excellent book on the cultural riches possible via globalisation, the growing mix of different cultures possible on today's world is making possible new directions in areas like music and art. Norah Jones, with her mixed ethnic background and her fusion of country and western, blues and soul music styles, is a living embodiment of what Cowen means.
And she is certainly rather easy on the eye, in case you wondered.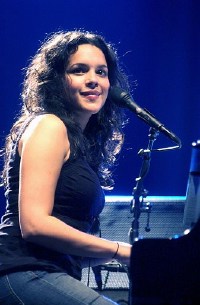 Update: The new album, "Feels Like Home", which has a more overtly country feel, is excellent, in my view.