Let me first of all state my basic position. I love America. There, I have said it. But I think there is a problem. I think the citizens of the United States are deluding themselves that they live in the 'Land of the Free'.
As I write this, in the downtown financial district of Boston Massachusetts, I am a hundred and fifty yards from the site of the historic Boston Tea Party, right here on the harbour lip of Fort Point Channel. In my opinion this site rates as one of the most significant places on Earth, third in my list of inspirational locations which I have personally visited, right behind Avebury and Stonehenge, and even creeping ahead of the Great Pyramid of Khufu. Yes, I am one of those obsessive libertarians. I really am that sad.
Because in the future, when all of the current omnipotent state machines of the world have shrunk to nothing, this site in Boston harbour will be hailed as the Mohawk-dressed pinprick which first burst their bubble, the very point in space and time where the idea of the necessity of the state first started to die.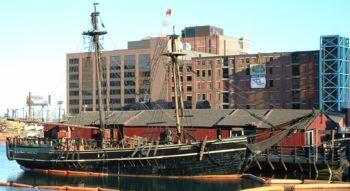 Birthplace of a libertarian revolution
But I fear we have a long road to travel before we reach that heady day, when the final Byzantine Emperor of the state is killed defending its walls of mediocrity, defending its rights to general taxation, and defending its monopoly provision of both justice and security. Because what I discovered, in Boston, admittedly in a state which ought to be renamed Taxachusetts, was a shock. The first shock came downtown. I was admiring a fine statue of Samuel Adams, the first ever Governor of Massachusetts, and a notable early American Patriot. This liberty-slogan encrusted statue stands out in front of Faneuil Hall, itself known as the 'Cradle of American Liberty', where George Washington himself toasted the first birthday of the new nation. But just look at what they have made Samuel Adams stare at, in statue form, for the last thirty years: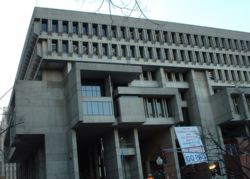 Boston City Hall
I wonder how many American taxpayers it takes to keep the candles burning in this particular concrete monstrosity, of an afternoon. If someone were to offer me a hundred million dollars, and ask me to create a life-size model of George Orwell's Ministry of Truth, I would decline the cash and simply hand my sponsors the address of this statist horror.
Designed with the feeling in mind of 'making the individual look small' and 'making the state look big', this wind-chilled horror also cloaks itself in one of those Red Square style plazas so beloved of socialist architects, one of those communal areas that nobody in any community ever wants to spend any time in, unless 'persuaded' to go there, to wave happily at their leaders, by men with guns in their pockets. Apparently, according to my Bostonian sources, this North Korean style plaza was created by the destruction of an earlier much-missed and much-loved Bostonian cavalcade of buildings, you know the sort, filled with life, character, spontaneity, and individuality. But no, all swept away to create this hideous parasite-drenched edifice. Words alone cannot describe my shock at encountering this cuboid spawn of the Borg, and even now, my jaw is dropping at the incredulity of my discovery, as I turned away from Mr Adams' statue to witness the sharpness of those Gulag-inspired concrete guillotines before me. Nightmarish.
Even my personal old Smeagol chained in his socialist cage in the centre of my mind had to laugh, in sympathy, with the new capitalist me. For we were both brought up as Marxists in a union-dominated 1970s England, and like every other collectivist mind in England, we drank from the milk of the idea that all capitalist evil in the world emanated directly from the Great Satan in the west, from the land of John Wayne, from the land of Walt Disney, and from the land of Davy Crockett.
Little did we realise that even as we washed our developing minds in Das Kapital, there existed places in this same America portraying an undisclosed triumph of the world's collectivist social will.
I wandered up the steps of this terrible building in a daze, wrapped in fifteen cold-protecting layers, to find the City Hall's windswept plaza spreading out before me. And what was the sole building permitted within the confines of this vast empty frozen public arena? Think 'monument to collectivisation', and you may get it. Yes, it was the entrance to a collectivised transport system. Unbelievable.
An entrance shack squatted like a flue pipe directly up from hell, on one side of the plaza. This chimney led down to a dilapidated subway system. One of the escalators was out of order. Surely it can't be collectivised, I thought? Surely not in America? My blessed America? But it came as no surprise, later, to discover that this one-fee-fits-all subway system did indeed 'benefit' from generous government handouts.
It only took one or two long delays on short simple routes to remind me of London's similarly lobotomised Underground system. Though saying that, the staff were far more helpful here in guiding this stranger in a strange land to a remote cinema complex, for his second viewing of The Return of the King.
But that is what I love about America, even though it is more socialised than it apparently realises. The women are still sexier, the men are still handsomer, and everyone is still better dressed. Even the grunge kids are grungier, the lowlifes are lowlier, and almost without exception everyone is far more polite than we precious tight-assed Brits. Even a beggar I met in the doorway of a Wellesley breakfast coffee shop was polite, wishing me a good day, despite my absolute point-blank refusal to give him a dollar. Well, I did not say anything. He just knew by the look in my eye not to ask.
So, getting back to the story, what was the name of this subway station, this dribbling Shelob spider of a station, at the heart of Boston's Transit system? Just to keep the Orwellian motif going, the state-based God of Collectivism had, without the slightest trace of apparent irony, decided to name this particular subway station Government Center. I almost ran screaming from the shack. I looked up half expecting to see the picture of a man staring back down at me, his face bearing a thick luxuriant black moustache, and to hear a distant bell chiming thirteen o'clock. There was indeed a large face on the wall of the City Hall, but I was in no mood to snap it. Fortunately, I can find no pictures of it on the Internet, either. Which is a good thing.
I had to get out of there. So I staggered back down to good ol' Uncle Sam, outside his Cradle of Liberty: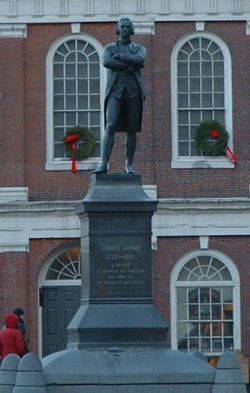 Samuel Adams, Hero of Liberty
Now that's more like it, I thought. For I really do love America, and I am sure this travesty of a City Hall building is still curable. Do yourself a favour, Bostonians, and give Samuel Adams something decent to look at. If in the intervening period of time, before states cease to exist, you still need something to house your city administrators in, and even private city street owners will need some kind of office, knock the whole thing down and replace it with something Greek and magnificent, like the splendid Widener Library in Harvard Yard.
And so, escaping from America's worst building, please God do not ever let me find anything worse, I walked through the financial district, my home for the next five days, down to the Boston Tea Party ship. Again, it came as something as a surprise, in the frozen Arctic air, to discover the following sign: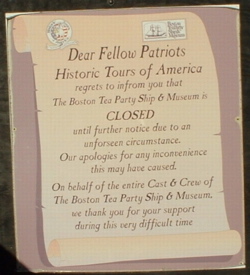 The Boston Tea Party site is closed, indefinitely
I had expected that being British, they would not let me in, but for the whole thing to be closed to everyone started to worry me, again, on your behalf. For as Wendell Phillips said in his 1852 speech to the Massachusetts Anti-Slavery Society, 'Eternal Vigilance is the Price of Liberty'. And if you are going to let a site like this get rundown, and let it get surrounded by castaway concrete from a swathe of ugly federal building programs, you must ask yourselves if your vigilance is indeed slipping.
But maybe I am overdoing the doom-and-gloom thing, mainly because I wanted to be photographed throwing a tea chest over the side. If people refuse to value a thing, such as a constantly open Tea Party site, could it said to be a good thing that the state fails to make taxpayers pay to support it? Well, yes, maybe it could. But of course, the taxpayers of Boston have very little cash left to support Tea Party ships, because for the next 100 years they are going to be paying back the twelve billion dollars it has cost them for The Big Dig, a massively expensive Keynesian pump-prime pork-barrel project to build various tunnels through the cream cheese of Boston's complex soil structures.
Has it been worth it? Only you Bostonians can decide that. I certainly hope all the community outreach programs you've been subjected to, in mitigation of the project, and costing up to a third of the outlay, have proved worth it to you, as well as the tens of millions spent on the preservation of Rumney Marsh. I know I can never let a day go by without logging on to my nearest community outreach activist outlet or squelching through my nearest city marsh.
But before I continue, I really do have to mention the weather. I thought we Brits were obsessed. On my favourite news outlet, NBC channel-7, my favourite meteorologist, Pete Bouchard, spent up to 15 minutes every hour giving me the latest blow-by-blow account of every single snow cloud, or every single possible snow cloud, in the entire New England area. What's more, it took me just two days before I stopped seeing him as Bill Murray, in Groundhog Day, and started seeing him as my very own personal friend, Uncle Pete, helping me through the weather-torn day.
And boy, did we need helping. The day I landed it was colder than the dark side of the moon. On a cold day. In an Ice Age. With the windows open.
To say it was cold, would be like saying a Super Nova is slightly hot. I have never experienced such depraved iciness. How any of you manage to stay living in Boston, when our fine brave Patriot boys can walk around in light sweaters, in Houston, defies me. Yes, you have history, and bendy streets, and autumn, or as you bizarrely call it, Fall, but crikey, such cold. Chill the marrow? I may never be able to father children again.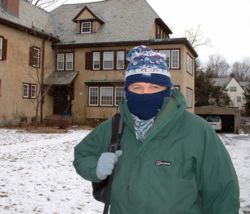 Your intrepid hero found his future barricade gear great for the cold
Saying that, though, after a couple of days I started getting used to it. Americans started sounding less American, and I suspect that I may have started sounding less English. I once spent three weeks in Vancouver, and when I left everyone there was speaking plain unaccented English, and everyone back in England was speaking like David Niven, old boy. I fear I have a chameleon-like adaptability to foreign culture, particularly when I find it preferable to our own homegrown English chip-on-the-shoulder culture.
Indeed, in many ways, as I wandered around Boston, I increasingly came to think that New England is the England we stupid English threw away a hundred years ago, in our doomed bid to grow our heavenly unions and socialised culture into an Earthly Paradise. And even despite the cold, and the lumpen presence of City Hall, I felt increasingly comfortable, to the point where if you could've got my wife to agree, whisked my children over, and swapped my purple passport for one with an eagle on it, I would have kissed you.
But these little things just kept niggling away at me: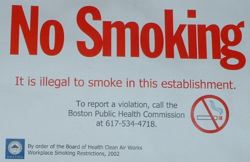 Rauchen verboten
Why are you, in the US, exporting socialism to us, in the EU? That's our job, the other way around. I'd heard New York had a smoking ban. But New York is surreal. It does not actually exist, except that bit where NBC broadcasts from, in Rockefeller Plaza. But to find smoking banned and illegal in private establishments, even in Boston, once again threw me out of kilter.
And then there were all those New Hampshire Primary statements, from the Democrats, along the lines of this:
We're going to find ways to cut Middle-Class health bills
What? By breaking the protectionist power of America's oldest producer-interest union, the AMA? Or by removing all that state subsidy, to enable tax cuts, to help ordinary people pay their medical bills? Oh, no, sir. By robbing successful people via raised tax levels. Not that successful people will pay these tax hikes, of course, because their accountants are too well-paid to allow it. What the Democrats will actually pay for it with will be even greater deficits. Which is free money. Right?
Nobody on the TV debates seemed to challenge the Democratic wannabees on any of this. They just let it go. And removing Bush's tax cut seemed to be stated as a good thing, and yes his deficit is outrageous, but you cure this by cutting government spending, not by abandoning tax cuts. And the questioning audiences and newscasters just let it go. And at that point I let it go, too.
It is not my problem, I thought. It has really got nothing to do with me. But, of course, it does have something to do with me. Because we, in socialised Europe, look to you, in America, as beacons of freedom and as rays of hope in our own feeble fight against the massive forces of collectivisation, as we slide into our death pit of EU taxes and totalitarianism.
But it seems you are getting to be just as bad over there, and in some ways worse, as for example with the smoking bans in private establishments. Even New Labour in the UK will not contemplate that. Just yet. But it is only a matter of time before they will say:
If they've even banned it in America, then it's OK for us to ban it over here, too
For our home-grown socialists to use the good ol' US of A as a beacon of socialised perfection may disturb you. I hope it does, anyway. It certainly disturbs me. And it is happening more and more. I just thought, as a friend, I should warn you. Think of me as Paul Revere, whose splendid horse-borne statue I discovered on a very brisk walk up to Bunker Hill. Think of me as an American Patriot in disguise. I even have a T-shirt with 'New England Patriots' on it, if it makes you feel any better. Not that we Pats fans need such things, any more, with our almost Jonny Wilkinson style late Superbowl win.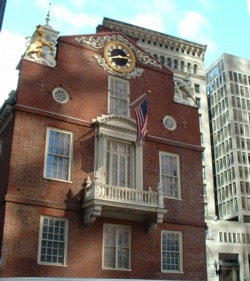 The Old State House
The subtle use of language of these Democratic candidates, several of them from New England, also set my mind on edge. It took me a few hours to figure out why. Reading some books on New England history and the Boston Freedom Trail, where I later encountered the splendid Old State House still resplendent under the Lion and the Unicorn of Great Britain, I realised what was causing this edginess.
They have twisted the language of your revolution. The American Revolution was a libertarian revolution, a movement against the state, against taxation, against coercive will, but mainly a liberty from the oppression of political tyrants. But Democrat proto-statesmen now describe it habitually in terms of socialist revolution, in terms of a liberty from the oppression of the rich. They dress it in the blood-drenched colours of the French Revolution, rather than the clear red, white, and blue colours of the true American Revolution. This use of language is very clever, it is very subtle, and it is very dangerous. Beware!
There are two sorts of rich people. Those who serve consumers spectacularly well, and those who serve themselves spectacularly well via the corruption of politics. The early Americans revolted against the second political kind, particularly the get-rich-quick Members of Parliament and landed gentry back over the Atlantic, in Britain. The Democrats are now using this perfectly decent anti-rich motivation to direct an attack against the first kind, the ones who serve society, by using even more political power against them. What you will then receive is more of these second kind of rich, the odious kind, the kind who should be removed, the kind who would suck your bones dry, given the opportunity. What the Democrats would destroy are those rich people who made America great through their innovation and industry, by associating them in their use of language with the power brokers of Washington, the lobbyists, and all the other snouts in the trough of political power. It is a very clever trick. The way to get rid of these people is to lessen and then remove politicians from having any power. Not by giving more of it to them, as the Democrats would have you believe.
Which leaves us with just two more important questions to answer, the first concerning liquid refreshment. Namely, what is the finest beer in New England? Oh, easy peasy lemon squeezy, my friends. How could it be anything other than Samuel Adams, perhaps the finest beer in the world. Let's hope this well-deserved accolade, tested in some depth by your humble correspondent, makes it up to poor old Sam's statue for having to look upon the ghastly Boston City Hall, for eternity. What ever did he do to deserve that? So in recompense, tonight, I shall raise a glass to dear old Sam.
[BTW, I managed to avoid going into the hideous Cheers bar. Those of you in Boston will know where I mean.]
And so finally, we come to the most important question of all, for a man on a five day business trip. That concerning lunch. Which is better? Finagle Bagel or Dunkin Donuts?
After much deliberation, it has got to be Finagle Bagel every time. Those so-called bagels from Dunkin Donuts just suck. Big time.