I have been to a marvelous party and now I am back.
The marvelous party was the CNE Capitalist Ball, held at the Belgian Stock Exchange in central Brussels.
Now before I go any further here, I have a confession to make. Two confessions, in fact. Last Thursday, I referred to Brussels as the 'Heart of Darkness'. Well, I was wrong about that. I also suspected that I was going to find myself in Brussels amid a room full of musty, fusty academics plus a few corporate types and policy wonks. I was wrong about that too.
In fact, my travelling companion and fellow Samizdatista Antoine Clarke and I found ourselves in sumptuous surroundings with hundreds of European, British and American glitterati and illuminati from the worlds of business, finance, politics, journalism and academia. In other words, lots of clever, interesting men and lots of clever, interesting and head-turningly lovely women. They were smart, young, chic, funny and sexy.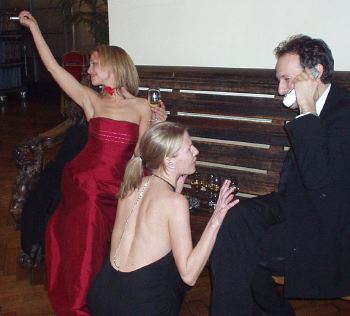 The belles are ringing for capitalism
Imagine how much fun you could have with those kind of people mixed with lashings of the finest food, alcohol and tobacco that money can buy and a sixteen-piece swing band? Well, it was even more fun than that. If you don't believe me then see the pictures below.
But the pictures can only convey a part of the whole. What they cannot really convey is the atmosphere. Yes, it was sexy but it was something more than sexy too. It was mingled with that kind of giddy excitement that comes from being in the company of winners.
That is the impression I am left with. These clever, dynamic people are in the process of straightening out an entire continent and I cannot imagine any obstacle being enough to deter them or get in their way for long enough to even slow them down. If history possesses even a modicum of common sense then it will get on their side. Quickly.
I want to go again. In fact, I want to go again right now. Sadly, I am going to have to wait another year.
I will let you go to the photo-fest now but, before you rush off, I just want to say a few words about my hosts, the Centre for New Europe. Not only did they organise this weekends event (and for that alone they would deserve global plaudits) but it is the CNE that is networking all these brilliant free-market campaigners, writers, doers and thinkers and bringing into together so that they get to know each other and trade their ideas and strategies. That is real progress. Bloggers like me may talk a lot about changing things but the crew at the CNE are out there actually changing things.
No-one, least of all me, is going to even try to pretend that Europe does not have its serious and structural problems but if that continent is going to be saved at all from terminal and ruinous decline, then it is the CNE that is most likely to save it.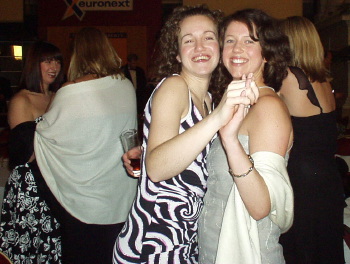 A couple of interns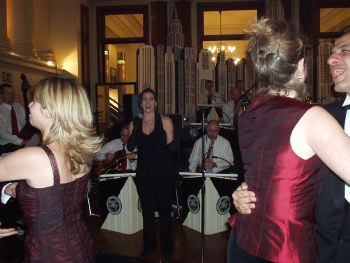 A terrific French band playing American swing music in front of a
New York skyline backdrop! French anti-Americanism? Pah!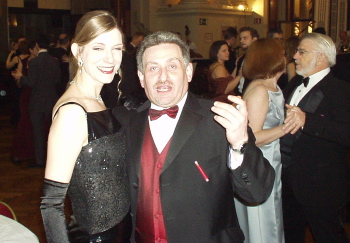 Tall, glamourous Texan woman with short, drunk, unglamourous British man
Gawain Towler (editor of The Sprout) and his wife Joslin
Stephen Pollard and friend.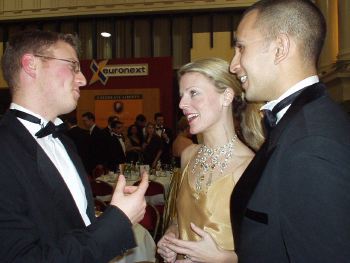 Plenty of bright, young things in attendance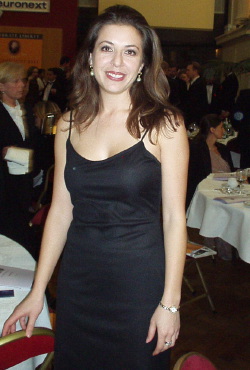 A very charming Phd student from California
And now for a few words about Brussels. I was unjustified in referring to it as the 'Heart of Darkness' but not entirely off the mark. Anywhere that hosts the European Commission and a clutch of similar toxic bureaucratic monoliths deserves a bit of a battering. But there is more to Brussels than that.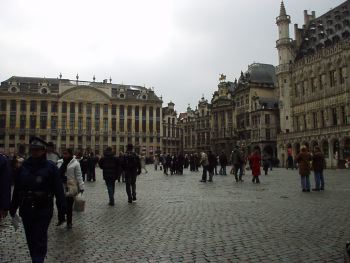 The Grand Platz of Brussels
Away from the soulless, modernist horror blocks are towering and inspirational monuments to the old Flemish mercantile traditions upon which the city was built. It is still a very prosperous place. Walking around the city centre, I lost count of the number and choice of high-quality retail outlets, restaurants, cafes and bars. There is also a bustling, commercial quality to the atmosphere that gives Brussels quite a buzz.
Of course, two days is nowhere near long enough to get an accurate impression of what it would be like to live in a place. But it is long enough to dispel this caricature notion of Europe being a socialist hell-hole as compared to the English-speaking world. If only thing were that cut and dried. They are not. Certainly we do some things better in Britain but there are also very many areas in which I think the Belgians are doing things better than we are. I hope we can learn the good things from each other and I hope to be taking another trip to Brussels quite soon.