Glenn Reynolds has an article on the rapidly escalating Nano-War of Words. The technological possibilities outlined 25 years ago by Dr. Eric Drexler have the poor spin doctors (like Mr. Modzelewski) and a number of other Johnny-come-lately's in the science world all bent out of shape.
It is, after all, not Dr Drexler's fault lesser minds are jealous he got there first and rightfully will have his name in the history books as the Father of Nanotechnology. Whether he is correct in detail or not is irrelevant. The fact his detractors will not even debate him without veering off into ad-hominem attacks rather than meet him fairly on the field of equations shows the serious weakness of their position.
I will make no absolute claim that a Drexler Assember/Disassembler is buildable. Neither will I accept claims backed up by bluster and lack of experiment that such is impossible.
And yes, I do know Eric. Quite well in fact.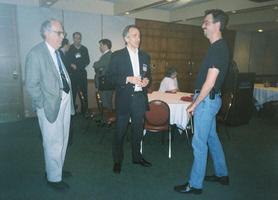 Dr. Eric Drexler (center) with Dr. Peter Vijk (left) at
the May 2003 National Space Society conference in San Jose, California
Photo: Copyright Dale M. Amon, all rights reserved