Having returned to the land of hope and glory after almost two weeks of hectic holiday season and a limited access to internet, I have the need to blog of things I have seen.
I spent Christmas in Bratislava, the capital of Slovakia. After such splendid reviews of the town here on Samizdata.net, I was wondering whether it would live up to his impressions during the cold winter days. The Christmas markets in the centre of town, a tradition established in 1993, have a certain magic that increases with copious quantities of hot mead and wine.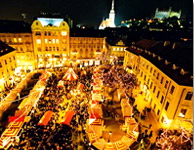 The crowds are impressive, with density matching that of any western shopping experience. There are many international brands present, many a multinational appearing in the 'small town with big potential'. The most impressive sight, probably because most unexpected, was the vista alongside a new road by-pass relieving the centre of Bratislava of heavy traffic. The road is lined with enormous warehouses, hypermarkets, showrooms for car makers such as Mercedes-Benz, Porsche, Nissan, Audi, Jeep, Chrysler, there is Fuji Film and Coca-Cola. Driving along you could be in any western country. In the centre of town I have seen designer shops frequented mostly by the rich even in the West. I believe I caught a glimpse of Bang and Olufsen. Whatever you think of the brand, it is a huge leap for the design-conscious of Bratislava.
This all is very good and a superficial visitor might conclude that Bratislava represents a successful marriage of the charm of a small provincial city with a multinational presence and that Bratislava benefits from its proximity to Vienna without being reduced to a charmless suburb of its larger and more internationally renowned neighbour. Perhaps I should leave it at that and spread the good word without digging underneath the surface. Unfortunately, I stayed there long enough to encounter what lies beneath or, as we Samizdatistas would say, in the metacontext. What I found is that the whole edifice rests on very shaky foundations. I have two reasons for such a strong statement. One is cultural and the other legal. The first means that although individuals in former communist countries are entrepreneurial in ways that make western businessmen look as adventurous as bank clerks, there is very little of what in the West we understand by 'commercial culture' underpinning the markets. I suppose in Hayekian terms, this would be similar to the concept of "the extended order" – the impersonal relationships that allow culture and trade to flourish among strangers.
People set up their own companies or take over former state businesses without understanding where their livelihood is coming from – the markets, i.e. the customers. They are mostly after the status of a 'businessman' and of owning a business, without appreciating that the entire point of their existence is to meet a portion of market demand, that is, attract customers. Business seems to revolve around those who own them and their company's business processes, such as they are, are designed to suit them, not the customer who seems to be almost an after-thought. Although there certainly are companies in the West that fit the above description, at the same time there is also an explicit understanding in the western business culture about what drives the markets. It is also a matter of degree and the proportion of the businesses that behave in the 'non-commercial' way.
One of my favourite examples can be found in a major department store in central Bratislava. The ground floor is arranged in a manner identical to a standard Western department store – cosmetics and perfumes. It is full of the leading brands exactly as in most western department stores. The decor and arrangement is indistinguishable. However, that is where the similarity ends. The service is non-existent – the shop assistants, if their attention can be attracted, are either unpleasant or overbearing, trying to force the overpriced goods on you. (In my experience most western goods are on average 1/3 more expensive that in the West. How any of the locals can afford to buy them on a regular basis given the average monthly wage of around £220 ($395) is a mystery I have not been able to solve.)
The bit that got to me most was the fact that the display and sample items were all tied to the counter with a wire! This was presumably to stop customers from stealing them and undoubtedly the managers saw this as a neat solution to the problem of disappearing sample bottles of expensive perfume and to erosion of their profit margins.
It would have been difficult to explain to the store managers that this is an unacceptable treatment of customers since it amounts to treating every customer as a potential thief. It would have been impossible to explain that it matters that they are not treated as such and that good will generated by a company is as important as the tangible product and service is sells. And it certainly would not make any sense to them if there were told that selling cosmetics and perfumes is about selling experience, impression and generally impressing a positive association on to the customer. Hence the emphasis on packaging, advertising, expensive poster campaigns etc, etc, etc.
This is because communism succeeded in one thing – it made the countries under its yoke truly materialist. Things and object take on a far greater importance if you can barely afford them and have to work very long and hard to purchase them in the first place. Under such conditions they loom far more in such people's lives then in a consumerist society that treats most products as disposable.
Marxism also managed to make its 'theory of labour' pervasive in the business metacontext or culture. Service and experience do not count in market transactions as they cannot be measured and therefore priced. By the same token human labour does not count for much either. Your time is not economically valuable and so service industry was non-existent under communism. It is now emerging under the influence of Western businesses but it does have a long way to go.
The second issue I have is with the legal framework. There seems to be very little reliance on the contract between transacting sides. The market exchanges do not seem to be underpinned by strong contracts, i.e. the contracts are there but when things go wrong, their effective enforcement is almost non-existent. It takes about 5 years to get a court hearing, which makes the legal redress irrelevant. This in turn, means there is very little legal experience in handling business disputes with law-making severely lagging behind. Legal infrastructure is increasingly influenced by the EU requirements, which is no foundation for a thriving free market. The inadequate legal provisions affect the labour market and employment relations that further undermine development of a sound commercial culture.
Now there is time for a disclaimer. I wrote the above paragraphs on the basis of my own impressions and knowledge. I know that there are individual businesses in Slovakia that are doing 'everything right'. I know that there are many reasons why the situation is the way it is – such as the fact that Slovakia is more influenced by the Austrian and continental business practices that are rather different from the Anglo-Saxon entrepreneurial culture. The intention is not to be negative about Slovakia and its economic development. The regular readers may recall that I cheered the Slovak government's decision to introduce 19% flat tax rate.
I am also not saying that Slovakia and other countries of Central and Eastern Europe are doomed because they fail to exhibit certain features that I consider crucial for economic development. What I am describing is the current situation as I see it in the context of my understanding of what makes free markets and free trade work – individual freedom, property rights, legal framework with effective contract enforcement and generating trust between strangers for complex market transactions. To my eyes the capitalism in Slovakia had all the trappings of the western sort. But without sound institutions and legal infrastructure supporting the entrepreneurial spirit of individuals in such countries, it will be a rather cardboard prosperity.