Last night, while wandering through Soho to a dinner party, I encountered these posters, in Berwick Street. Luckily I have taken – Perry de Havilland style – to carrying my Canon A70 digital camera with me at all times, so I was able to snap them. (Some other snaps of the Oxford Street Christmas lights were not nearly so successful, unless you are heavily into abstract impressionism.)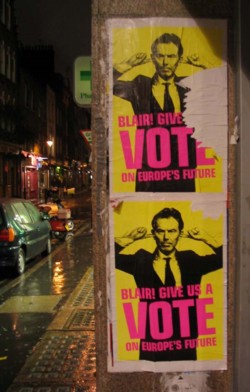 I do not know who put them up. Searching for visuals on the net is a lot harder than searching for strings of words or for organisations. For example I could find no trace of this poster here.
Still, a pleasing straw in the wind, I think.
There is a huge irony happening here, I think. Like it or not, there is a widespread – not universal but widespread – opposition in Britain to the Iraq war, and now to the presence of victorious British troops staying out there to try to win the peace. The opponents of this effort have done a great deal to spread the idea that Mr Blair is a man not to be trusted, and a man who doesn't listen to public opinion.
True or not, this charge, it now seems to me, is getting around, and is spilling over into the EUrope debate. The sense that, in matters EUropean also as well as Middle Eastern, Blair is pushing a personal and misguided agenda in defiance of the opinions or interests of his fellow countrymen, is becoming more and more dug in. Iraq = Blair can not be trusted and won't listen = Britain being in EUrope is dodgy too. The key to this series of public opinion dominoes, so to speak, is that there is a great non-political slab of people who, unlike the leftist opponents of the Iraq war and Iraq peace, are willing to apply the same thinking both to Iraq and to EUrope (and to everything else Mr Blair is doing or not doing), in sufficient numbers to make a difference.