True:
In this handout picture made available Tuesday Oct. 28, 2003 by the Israel-based Cornershot Co. in Tel Aviv, Israel, a rifle is seen composed of two parts; the front, that can swivel from side to side, containing a pistol with a color camera mounted on top, and the back section which consists of the stock, trigger and a monitor. According to a report by the Israeli daily 'Maariv' newspaper, the pistol, produced by the Florida-based Cornershot Holdings, is being tested by the Israeli military and has already been bought by a number of special forces around the world. The unique weapon allows a soldier to remain behind cover, with only the barrel of the rifle exposed in the direction of the hostile fire. (AP Photo/HO, Cornershot)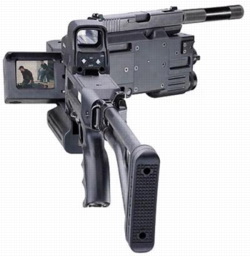 If you've already seen and heard about this days ago, apologies from me and only me. If not but you're glad to see and hear of it now, you also have Chris O'Donnell to thank.
Update from the editor: As it happens, this innovative Israeli weapon is just a more sophisticated development of an idea implemented by the Germans in World War II… a version of the MP44 with a 'shoot-around-corners' attachment using a mirror.