Last week the Slovak Republic passed a tax reform law introducing a flat tax rate at 19 percent for income and value added tax (VAT) with effect from January 2004. The Finance Ministrer, Ivan Miklos, hopes that such a vast reform will spur further economic growth and attract more investments.
Tax reform, and tax rates at the lowest possible level for everyone is an important motivation to attract investors. It is a strong and positive signal for the inflow of foreign investments.
Flat tax, the abolishment of taxation on dividends, and profit shares that are included in the tax reform is the correct way of supporting those who want to invest. This is a fair, horizontal aid from the state that sets the same conditions for everyone.
It seems that the Slovaks have done their homework and the Finance Ministry proposes the reform arguing that the flat tax or a tax similar to this one has been introduced in 33 countries, GDP growth in these countries is two times higher than in others and quoting examples of effective unified tax in New Zealand, Estonia and Hong Kong.
Apart from changes in income taxes and VAT, the reform will abolish gift tax and inheritance tax by the end of 2003 and introduce a flat 3-percent real estate transfer tax in 2004 with a chance to abolish it later on. In my book these qualify as glimpses of common sense, as exhibited in the statement of Peter Papanek, the spokesman for the finance minister:
Those taxes represented multiple taxation of property that was already taxed once.
An article in the Slovak Spectator explains that for corporations this means a lower income tax compared to the current rate of 25 percent. Individuals, nowadays taxed progressively within the range of 10 – 38 percent (the percentage increases with higher incomes), will all pay the same tax rate. Two current rates of VAT, a reduced one at 14 percent and a standard one at 20 percent, will be unified from the beginning of next year at 19 percent.
This is all interesting and very good news for Slovakia indeed. Now if they only got their social security payments and national health contributions in order… Nevertheless, the country is certainly moving in the right direction and it is probably worth keeping on one's radar.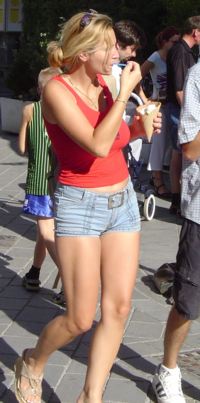 And Slovak babes are not bad either