Some literary wag (and I think it was Gore Vidal but I am sure I will corrected in short order if it wasn't) once quipped that politics is showbusiness for ugly people. Regardless of the provenance of the quote, I am quite sure that it must have been coined in honour of the Stop the War Coalition. Never in all my days have I cast my gaze upon such a motley collection of bedraggled, unsightly, grotseque and snaggle-toothed specimens as gathered today in Central London. An alarmingly high number looked as if they had been dragged from the wreckage of a motorway pile-up.
I can attest to this first-hand because, as your intrepid Samizdata correspondent, I took it upon myself to get 'down and dirty' with the Anti-Bush protests this afternoon.
I took my camera along because, frankly, I was expecting sparks to fly but as I stepped out of Goodge Street Underground Station into the pre-demo melee, I detected an atmosphere that I judged to be disappointingly muted. Perhaps I had set the bar of my expectations too high. The gathering protestors seemed to me to be quite bouyant but way short of combustible. You don't spend three decades attending soccer matches in England without developing a sense of smell for impending mob violence. There was not even a whiff of it here.
But there was a full compliment of 'usual suspects' complete with the by-now-ritual paraphernalia of street protest; whistles, drums, claxons, flags, banners, costumes, papier-mache puppets, rubber masks and pink cardboard tanks (I was sorely tempted to point out that it more closely resembled a half-track but I suspected that displaying even that rudimentary level of military knowledge would be sufficient to mark me out as an infiltrator). At least there was the customary hotch-potch of causes and grievances to be relied upon. Socialist Workers, Young Socialist Workers, Old Socialist Workers, Retired Socialist Workers, Communist Revolutionaries, Trade Unionists, Enviro-mentalists, Gay Rights, Animal Rights, Anarchist Rights, a whole slew of ageing CND veterans, a mere smattering of Islamic banners and one po-faced old duffer demanding 'Subsidies For The Arts Now!'. No, this was pretty much a whitebread event. Or, more accurately, a redbread event. It was if the Guardian has disgorged the contents of its subscription database onto the streets of London.
The banners were a bit of a let-down too. Aside from the widely-distributed prints most were a litany of worldly woes all of which were were the fault of George Bush. I don't think much in the way of design had gone into them and their banner faces were clearly too small to list all the outraged grievances. They often started at the top in big bold letters which gradually got smaller and smaller as they worked their way down resulting in a waving forest of eye-test charts.
But, unfazed by such trivialities, the more legible demanded 'Peace For Iraq', 'Hands Off Cuba', 'Free Palestine', 'Smash Capitalism' and 'Bush Out'. Or maybe it was 'Hands Off Capitalism', 'Peace For Bush', 'Smash Palestine', 'Cuba Out' and 'Free Iraq'. I can't remember precisely. I can remember a tall, wirey twenty-something who was marching in front of me for a while bellowing anti-Bush slogans with a brio that would have been quite dramatic had it not been for the fact that he was holding aloft a McDonalds 'Happy Meal' Balloon. Somehow I don't think he was quite with the programme.
I traipsed along with the circus while the tom-toms throbbed and the rhythmic chants rippled periodically down the tightly-marshalled line. It was while I was weaving my way around trying to get some decent snaps that I found myself alongside a beard-and-sandals job chanting into a megaphone that was obviously faulty (probably as a result of a Haliburton-Mossad black op) and rendered his pearls of wisdom utterly unintelligable. To me it sounded like:
"Aarg zahg fahg blahg GEORGE BUSH wahg pahg"
Judging from the response of his immediate compadres I was not alone because they chanted along as far as 'fahg' before even they tailed off, unable to comprehend precisely what evil doings of the POTUS they were supposed to be denouncing.
And that rather typified the day for me really. I don't think it ever quite got to where it was supposed to go. The crowd seemed determined rather than spirited and even the attempts to raise the collective morale with big, rousing cheers seemed to peter out into mumbling and more steady, obedient marching.
It had a 'going-through-the-motions' feel about it. I am sure they are just as enthusiastic about their various causes as they ever have been but it felt as if they were unable to tap into it in any meaningful way. It wasn't really a street uprising it was theatrical event. The actors performed with conviction but there was no getting away from the fact that it was a simulacram and not real life. Like a couple who have decided to divorce but still live together. They sit around the dinner table together and pick up the kids from school all the while knowing that it is sham. It was dutiful and formulaic but passionless and not a little self-conscious. I am sure they all still believe in their visions but perhaps they are haunted by the nagging worry that nobody else does.
By the time they snaked their way onto Waterloo Bridge, they had almost become engulfed in silence. It was beginning to resemble a long forced march to a labour camp and the audible attempt at rousing another chant succumbed to the collective necrosis ("Bush…Blair…Lousy Hair"). I decided to take my leave at that point. Gone was all the snarling nihlism and revolutionary bravura I had witnessed back in February. All that remained now was a long trail of the incoherent, the incomprehensible, the dysfunctional and the faintly repulsive. This was not so much a demonstration as a wave of human spam.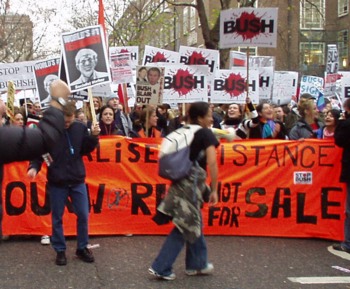 Where have we seen them before?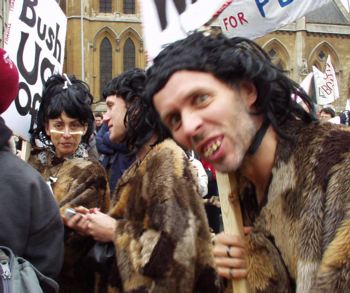 Hope we don't see them again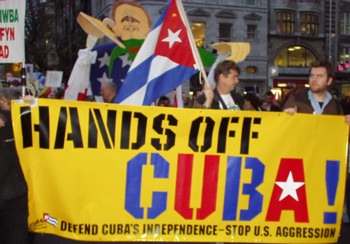 Fidel Castro has nothing to do with Cuba's plight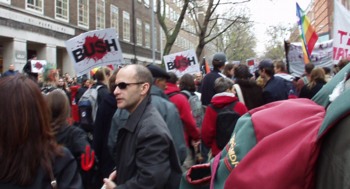 The Moonbat Carnival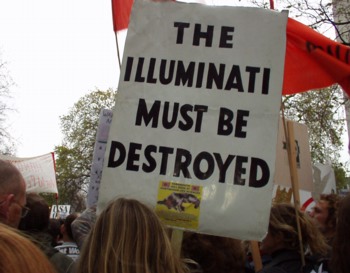 Little did they suspect an Illuminatus was among them…Mwuhahahah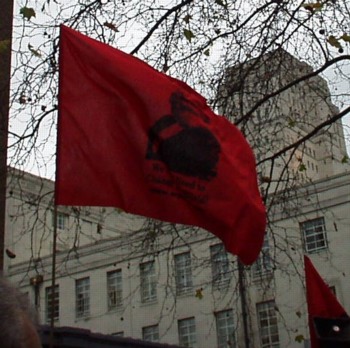 He was overseeing the day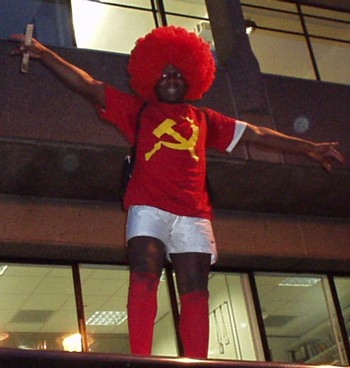 Yes that is a hammer and sickle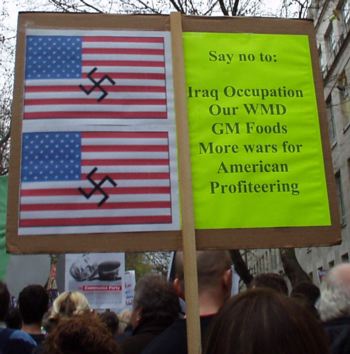 Hey, what about some British profiteering for a change?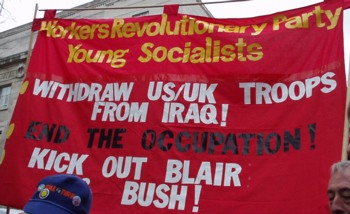 Yes, the day belonged to ordinary, upright citizens
I must admit that the attendance was pretty impressive. They did well to get the numbers out and the TV Broadcast news is reporting a figure of around 70,000 which is pretty respectable for a mid-week demo. The oraganisers, of course, are claiming anything from 150,000 to The Entire Population of the Northern Hemisphere. If form is any guide then their collaborators in the press will add a zero or two to the final tally in the editorial eulogies to come.
And that was that. I am home now and relaxing in my creature comforts as Mr Bush will be doing after tomorrow when he flies back to the USA feeling justifiably pleased with himself. Both he and Mr Blair may well have been under some manner of security threat this week. But not from this lot they weren't.